The oldest and hottest European gay porn studio BelAmi have now released a brand new bareback site called Freshmen, featuring some of the sexiest twinks and stunning jocks around in smoking hot duo and group scenes.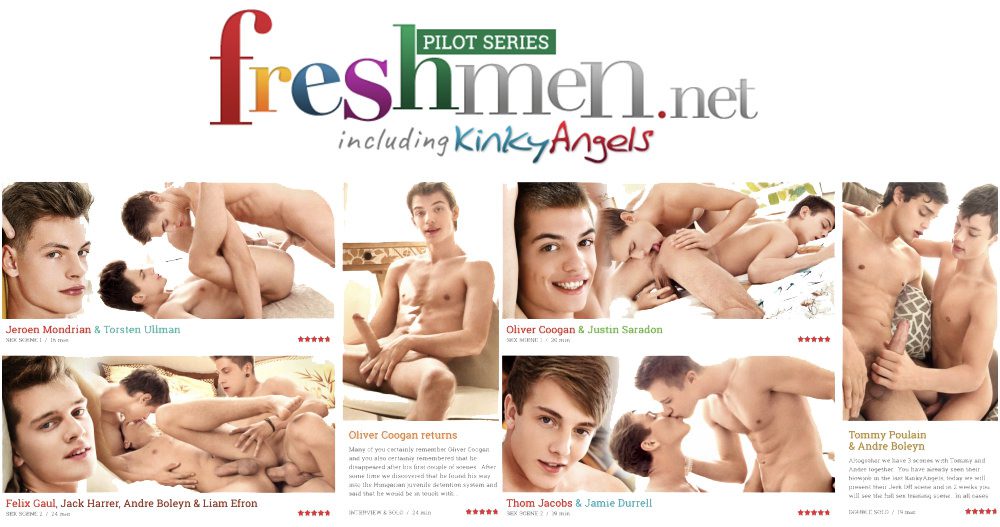 This new BelAmi site aims to bring you new fresh faced models in a new format, and still provide amazing quality scenes filled with sizzling bareback cum-filled action. Already we have a fourway group scene featuring two BelAmi favourites and two newcomers, a twink special update featuring some very cute and sexy new boys, and amazing HD videos with expert filming that capture all the action perfectly. For example, in the duo scene between cuties Andy McAllister and Bobby Noiret, the facial cumshaw is captured so well that you may be tempted to wipe your screen after Andy shoots his load all over Bobby's beautiful face!
With Freshmen being brand new, there's not a tonne of content as it's still ongoing. However, you do get access to the archives of Kinky Angels, the old BelAmi site that Freshmen has now taken over. Archives unfairly makes these sounds old, but in fact a lot of these scenes are very recent and from this past year, and there's over 300 videos featuring stunning models and sizzling bareback action.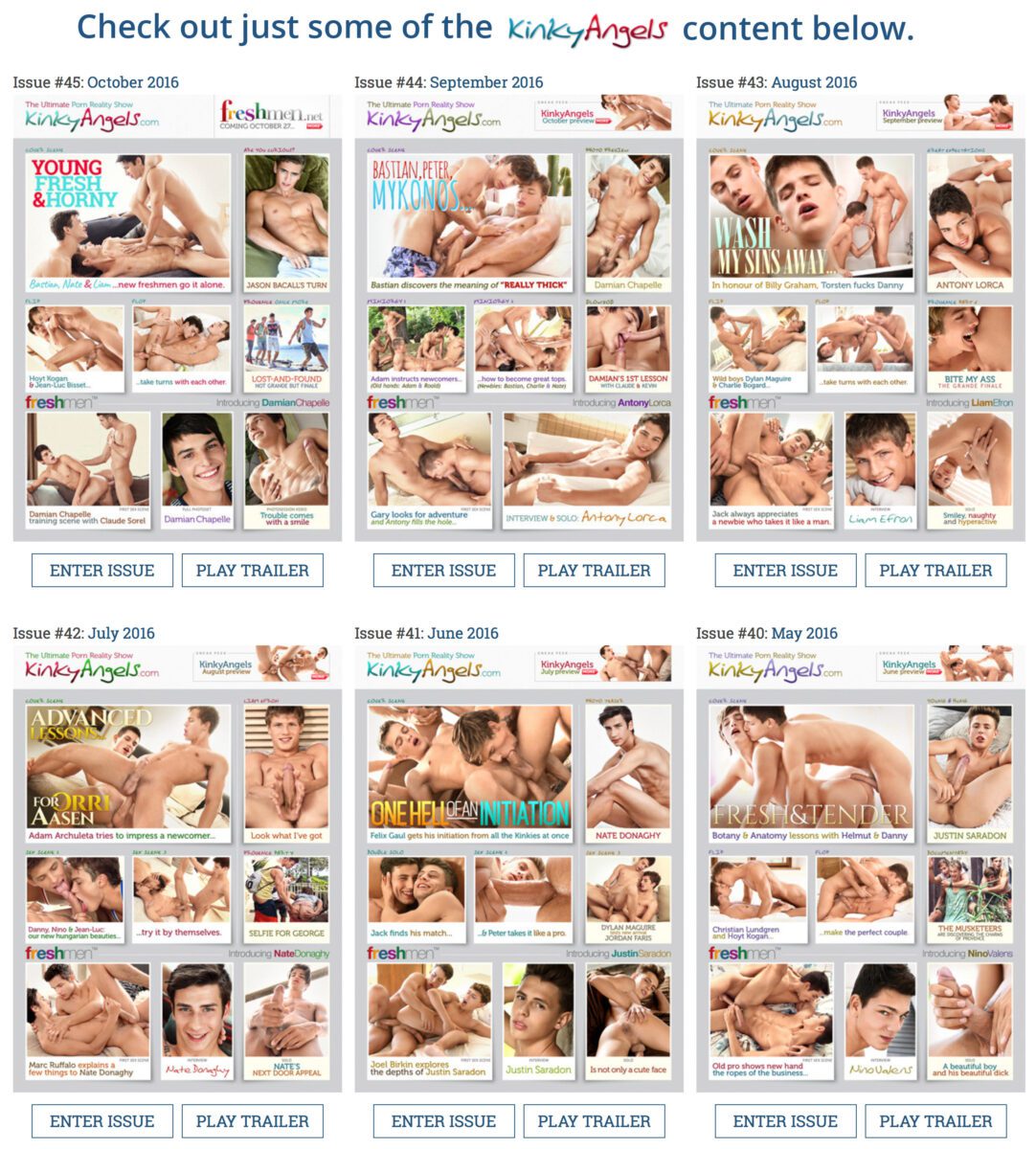 And with Freshmen content coming thick and fast, it won't be long until it's brimming with just as many smoking hot scenes! I've watched all the scenes released so far, and they're all horny as fuck!! But I'll start by showcasing just a couple today, then some more over the next few days until I'm caught up. Check them out below:
– – – – – – –
Felix, Jack, Andre, & Liam: Bareback Fourway
For the first ever scene on Freshmen we get a smoking hot group-fucking fourway! This video features Felix Gaul, Jack Harrer, Andre Boleyn, and Liam Efron. All these boys are stunning, and we start out with Jack and Andre watching Felix and Liam kiss before they talk the boys into sucking one another's big uncut cocks. Once they've watched Liam and Felix blowing each other, Jack and Andre get the boys on the ebed and suck their dicks before pulling out their own throbbing boners. It very quickly becomes a fourway cock sucking frenzy! There's daisy chain sucking, and double sucking too with two boys on one dick at the same time.
Felix and Liam both get rimmed by Jack and Andre next, and then the anal begins with Andre fucking Liam and Jack fucking Felix. It's quite a sight watching all four of these sexy boys on the same bed fucking, and both tops have huge dicks so we get some great views of their raw cocks pumping in and out of the two bottom boys' holes. They change positions halfway through and Liam rides Andre until he gets the cum fucked out of him. Felix gets the cum fucked out of him shortly after, and jack then pull out and squirts his massive load all over the boy's hole, giving it a hot creampie. Andre is last to cum, but you'll have to watch the video to see his spectacular cum shot which both the bottom boys get a good taste of!
– – – – – – –
Stunning young jocks Torsten Ullman and Jeroen Mondrian are paired up for this sizzling bareback duo scene. As Jeroen opens the door, Torsten surprises him with a kiss that quickly becomes very passionate. As they make out, they undress each other, and before long they're both completely naked and kissing on the sofa with their rock hard dicks rubbing together. Jeroen the goes down on Torsten, and he has a job fitting that big chunky dick all the way into his mouth, but he has a damn good suck on it anyway. It's then Torsten's turn to get his lips around Jeroen's uncut cock and blow his buddy in return.
After the oral is over, the boys lay on the bed together and Torsten slides his big bare boner deep into Jeroen's beautiful butt. He fucks that tight hole nice and deep, and then flips the sexy jock onto his back and pounds his ass even deeper. There's some amazing close-up shots of his big dick pumping in and out, but the close-up of the cum-shot is just stunning! We get in real close, and I mean close (We get even closer than the view in the pics below), and see Torsten's dick erupt all over Jeroen's freshly fucked hole, giving the bottom boy a creampie and leaving his pink pucker dripping in jizz….. The angle and close-up is so good that you can almost reach your tongue out and taste it!