Ari Bow and Benjamin Dunn have found a secluded spot in the woods and they lay down and blanket and start a long kissing session. Slowly the shirts come off, then the shorts, and these two horny boys continue embracing and necking with their stiff dicks rubbing against each other. Benjamin Dunn is a cute stud, he's one of my current favourites at Staxus right now and I could watch this boy screw all day. He's enjoying the kissing, but he keeps looking down at his dick and saying with his eyes, "Come on, start sucking my cock." Bow doesn't seem to be getting it, so Dunn urges the boy's head onto his dick with his hand.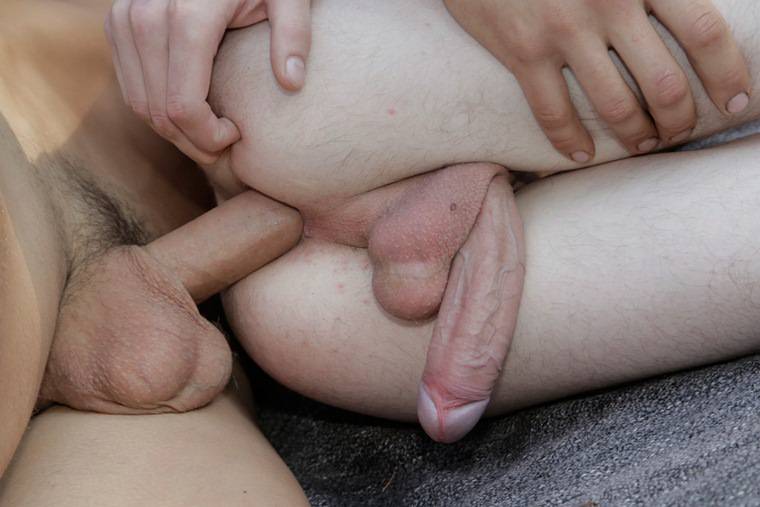 Benjamin has a big pair of low-hanging nuts and Bow plays with them while he's sucking the top's stiff cock. The boys stand up against a tree and do lots more kissing and take turns swallowing each other's dicks. Then they're back on the blanket for some 69 cock sucking. Eventually Benjamin's tongue finds it way to Ari's smooth butt hole and after getting the boy good and wet, Benjamin fingers his ass and gets him good and horny for an ass fucking.
Ari's down on all fours and Benjamin is standing behind him, he squats and teases the bottom with his big, fleshy nob, then slides it all the way in. Ari's ass accepts Benjamin's hard-on like a knife sliding through butter. It's not long before Benjamin's working up a good pounding rhythm and we get to watch and hear those big balls slapping against Ari. They fuck like this for a while, then move into some spooning and we get another nice view of Benjamin's dick plunging into this boy's bare hole. Benjamin unloads a thick, chunky load of cum all over Ari's chest, and after cleaning up his buddy's cummy dick with his mouth, Ari pumps out a watery load of jizz all over his smooth thigh.