Blond Aussie Jaxon Radoc headed to Europe back in November to do a stint of filming for Staxus. Because Australia is so far away, the site usually brings him in a couple of times a year for a whole mess of shooting. And his new scenes are starting to roll out on the site, in fact I've seen two of them in the last week.
Jaxon Radoc and Oscar Roberts head into the shower room and they're hoping to get some fucking done before they head home. But when they enter they find another buddy towelling off. He stands with his towel wrapped around his waist chatting with them and he's groping himself and hoping for a little action himself. But Jaxon and Oscar have eyes for each other. Eventually their buddy gets the hint and leaves them alone.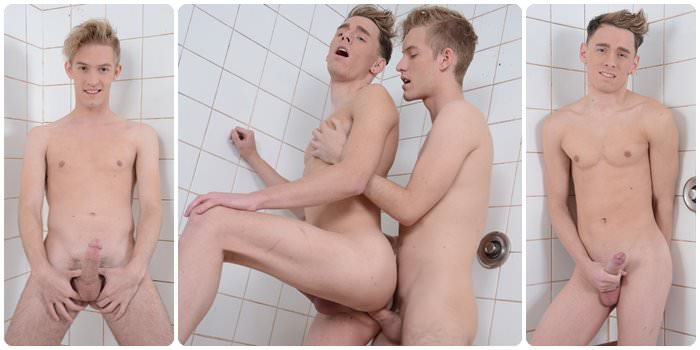 I'm impressed with Oscar's cock-sucking skills. There's nothing worse than seeing a big dick go to waste, but Oscar has no problem swallowing every inch of Jaxon's huge dick. And these two blond boys make full use of this shower room. Jaxon bends Oscar over the bathtub and skewers him, then he sits on the edge and lets Oscar ride him. They finally turn on the shower and Jaxon fucks Oscar against the wall and under the spray. Oscar finally unloads on the floor and Jaxon can feel the boy's hole pulsing on this hard-on while he cums, so he makes sure to ram his rod in deep. And like a good little bottom, Oscar squats and opens his mouth and this hung Aussie gives him a mouthful of cum.