If you've never seen Mitch Vaughn shoot his load before, you're in for a treat. He's a power dumper and shoots amazing flying cumshots all over his partners. Vaughn is playing a teacher in this scene from Teach Twinks and Jordan Thomas is his student. Vaughn knows he shouldn't be having sex with his students, but he hasn't been able to keep his eyes of 19-year-old, handsome twink Jordan. And that ass, Vaughn's been thinking of nothing but screwing this cutie.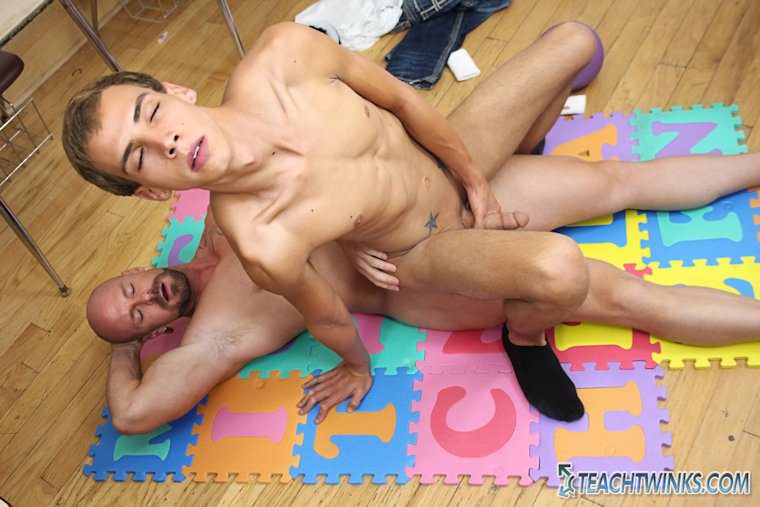 The set-ups in porn videos are quite funny sometimes. In this one Jordan shows up in the classroom to make up his fitness exam. So why aren't they in the gym? And if you look closely on Vaughn's desk, there's a pump bottle of lube sitting right there. And Jordan has conveniently forgotten his workout clothes, so the teacher tells him just to strip down to his underwear, and that'll have to do.
Oh well, who cares if the story is silly. Mitch Vaughn is a hot fucker and I can't wait to see him pumping Jordan's cute butt. After getting his dick sucked, the teacher says, "I'm going to fuck you." Then he lies down on the floor on his back, and holding his boner up in the air, he watches as Jordan sits on it backwards. Jordan bounces up and down on the teacher's dick and Vaughn is getting excited watching his meat disappearing into this boy's hole. But so far, it's Jordan who has done all the fucking.
Jordan has teased his gym teacher long enough and Vaughn takes over, instructing the boy to bend over a desk. He stuffs his big fat cock inside Jordan's tight hole and fucks him – not too hard, not too soft, but just right, I guess you'd call Mitch Vaughn a Goldilocks fucker. Then Jordan lies back on the desk and I enjoy this part of the fuck session the best. Jordan's got a big pair of bull balls that bounce as he's stroking his hard-on while the teacher continues porking his butt hole. And like I said at the top, if you've never seen a Mitch Vaughn cum shower, you're going to love this one. When Mitch Vaughn is done spraying Jordan with his huge load of jizz, the boy definitely needs a real shower.