Adam Patrick is new to Hard Brit Lads and he's got a huge cock to take up his ass in his first video. Nothing like starting things off with a bang. When this scene opens, Luke Desmond and Adam are necking and groping each other's underwear bulges. Adam's very excited and he's already got a cum spot soaking through his underwear.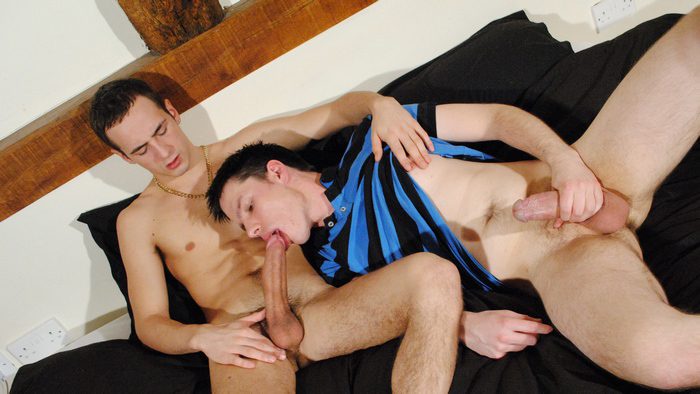 I figure that Luke is going to fuck Adam's ass because, you know, you don't a 9-inch dick in a porn video without it going up someone's ass. But I was surprised when Adam throws Luke's legs over his head and slides his tongue inside Luke's hole. Then spitting a great gob of lube on Luke's ass, Adam shoves his meaty dick inside and starts fucking. After drilling Luke's ass, Adam lies back and lets the horny lad ride his dick.
When Luke wants his turn, Adam lies on his side and Luke slides his monster cock inside the boy's tight hole. And they spoon fuck for a few minutes, but Adam's finding it very tough going. Luke's dick is huge and it's not so easy for some lads to take. So the boys switch positions and Luke drills him harder than ever, destroying the boy's hole. Adam can't take another thrust and lies back and offers his tongue. Luke deposits a very controlled couple of globs of jizz on the boy's tongue, but that's just the beginning. By the time Luke is done draining his balls, Adam's mouth is full of cum and his lips are soaked and glazed, and with juice dripping off his chin Adam cleans up Luke's cummy cock and swallows every drop.