I admit it, I'm a sucker for a happy ending. So I was excited to see Matthew Keading and Adrian Rivers end up in bed together in this latest Helix Video. If you missed the first part, let me catch you up a bit. Matthew had a crush on Adrian and invited him over for a movie night, he hoped they'd end up in the sack, but then Sasha Peterson showed up and Adrian invited him to stay. Adrian had eyes for Sasha who really was more into Matthew who desperately wanted Adrian, so it made for a very sizzling threeway.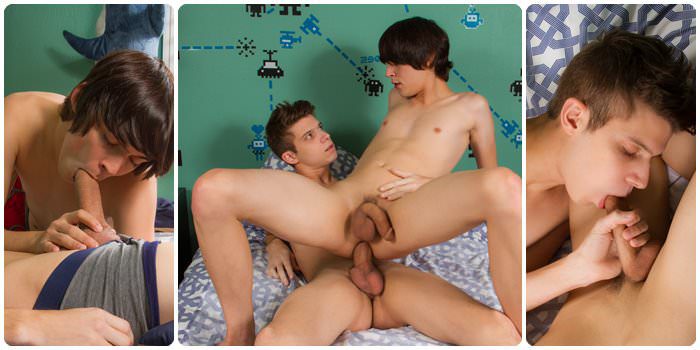 But after getting their rocks off, Sasha headed home and left the two boys alone. Matthew invited Adrian to stay the night, and this scene picks up with the sun streaming through the window. Matthew stirs and it's not long before Adrian is awake. "We have to thank Sasha for bringing us together," Adrian says. Matthew isn't interesting in talking about Sasha, so he plants a kiss on Adrian's plump beautiful lips.
Young guys and morning woods, and these two are off with lots of kissing and dick sucking. After some horny 69 blowjobs, Matthew rolls over on his belly and Sasha climbs on top. He stuffs his long dick inside Matthew's tight hole and start pumping. Matthew's been waiting a long time for this moment, and even though Adrian fucked both him and Sasha the night before, this feels like their first time together. Matthew grips the blankets while Adrian drills him forcefully. But these guys are just getting started. They've got nothing on the agenda this morning, so a long, rousing round of fucking is a perfect way to start the day. Is this crush going to blossom. Judging by the way these two fuck, I think they're on fire.