A couple of weeks ago, Bulldog Pit producer Ashley blindfolded and tied Luke Desmond to a leather fucking bench and then went out on the street to find someone to fuck the boy's ass. He returned with Mark, who did an awesome job of stuffing his big uncut cock up Luke's ass. But now it's Mark's turn. The producer has offered Mark even more money if he'll submit to the same game.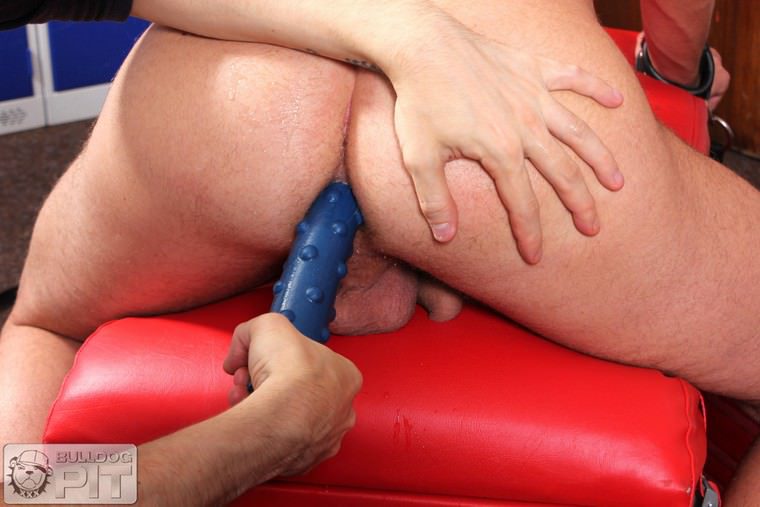 Mark Coxx is blindfolded and secured with wrist restraints, lying across the bench with his ass in the air, Mark waits. A voice over the studio's speakers tell Mark that there's already someone in the room and he's going to play with the stud's ass. Mark cocks his head to see if he can sense where the man is. Finally a masked guy touches his ass and starts playing with his asshole, loosening him up with his fingers.
The stranger inserts a good-sized dildo in Mark's ass, but it's by no means huge. But this dildo is covered in nibs and it drives Mark crazy. After a good fucking, he's begging the stranger to stop. But then wants more, so he gets a bigger sex toy, much bigger and thicker. This has Mark pleading for a break. But when Mark is released, he grabs the huge dildo and sits on it. After his hole is stretched, Mark is tied up again and now they're playing an edging game.
As the stranger strokes Mark's hard cock he asks Mark to draw a card to see if he's allowed to cum. Red means no, blue means yes. The first card is red, so when Mark is close to cumming, the stranger stops stroking his cock. He plays with Mark's nipples and gets him revved up some more, then returns to wanking Mark's cock. A couple more red cards until finally Mark pulls a blue card and he's put out of his misery with a big gushing load of cum exploding from his cock.