Lyle Boyce is one of my favourite guys in gay porn. He's a geeky cute blond guy who loves cock and he's a hot little bottom who really knows how to take care of a guy's dick. He's a blond Harry Potter doppleganger without the glasses. In this Eurocreme video Boyce talks to us about his super hot neighbour. "I've dedicated many wanks to this guy," Lyle says adding that he's thrilled when his straight neighbour invites him over for dinner.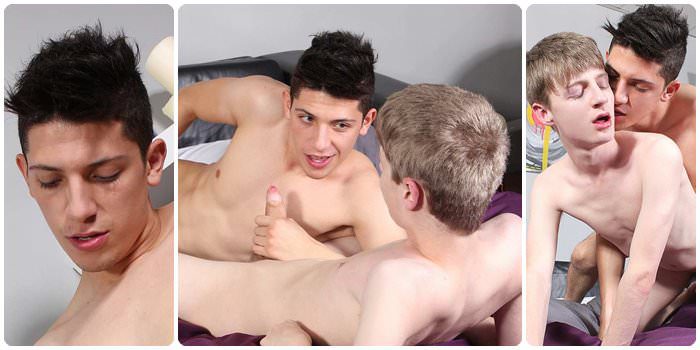 "Why don't you have a girlfriend anymore?" Lyle asks. "I stopped liking girls a while ago," Danny says. Lyle has to catch his breath when he hears this. And when Danny asks Lyle the same, Lyle stammers that he's never liked girls. They forget all about dinner and start messing around. Watching the blond geek swallowing Danny's dick is boner inspiring, he doesn't just suck cock, he makes love to Danny's hard-on with his mouth, gulping deeply and sliding his plump lips up and down Danny's shaft.
Lyle lies back on the bed with his leg hooked over Danny's shoulder, and he's in heaven when this sexy top boy slides his bone all the way inside Lyle's ass. With Danny pumping his hole, Lyle can't take his eyes of his new fuck buddy. After fucking him missionary, then doggy style, Danny lies back and lets Lyle climb on top and sit on his cock. The two kiss passionate while Danny thrusts lovingly but forcefully into the blond's tiny butt. This is a slow, passionate love-making session that you don't want to miss seeing.