Lyle Boyce sure has been busy over at Eurocreme. He got his cute and tiny butt fucked by Luke Desmond, Dolan Wolf, Danny Montero and others. The site has been running "A Weekend with Lyle Boyce" and this bottom lad says that he prefers to stay in on the weekend rather than going out to clubs like lots of guys his own age. But staying home is anything but boring, Lyle is a horny guy who lines up a mess of cock to take care of his mouth and ass.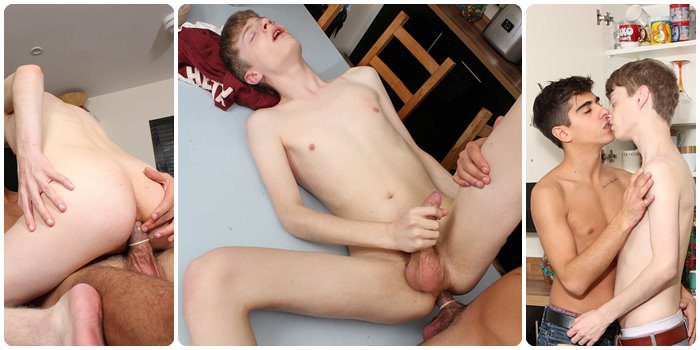 When we last saw blond boy Boyce, he had a dinner date with his straight next door neighbour Danny Montero. But it turns out that Danny gave up girls weeks ago and now only has eyes for boys. While Lyle was getting his ass drilled by his new fuck buddy, his moody boyfriend, Leo Marco, was trying to call. The next day the two get together and Leo asks Lyle a couple of times about the previous night. Lyle continues to lie saying that he was just watching television and didn't hear the phone.
The two lovers start to fight and then they have hot make-up sex on the dining room table. Lyle sucks his French boyfriend's big cock, plays with his low-hanging nuts, and offers his ass for some drilling. Leo takes out his frustration on Lyle's tight butt and fucks him all over the dining room table. But Leo doesn't know that this is the last time he's going to fuck his boyfriend's ass, Lyle has decided that a long-distance relationship is too hard; besides, he's got a very cute and hung neighbour who knows how to fuck ass just as well.