Now this is a hot fucking video. Bulldog Pit's Ashley is in the studio and he's pitching an idea to the producer. He wants to play a game with Luke Desmond who has to pick one of two cards, and when he's picked the wrong card, he's tied to a fucking bench. Then Ashley heads out onto the street to find a guy to fuck Luke's ass.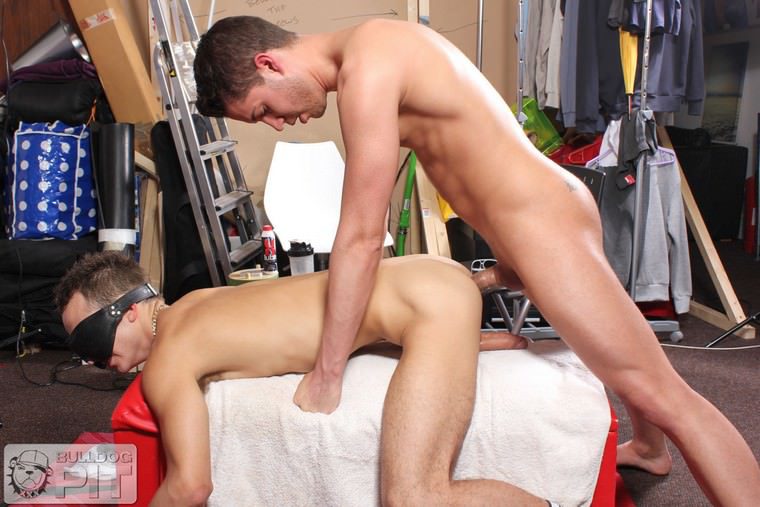 With Luke naked, blindfolded and tied to a red fucking bench, Ashley heads out. The first couple of guys he asked were a no go, "I've got a girlfriend at home," says one of them. Finally he finds Mark Coxx sitting on a park bench and Mark agrees and comes back to the studio.
Luke has no idea whose dick he's sucking, but he pulls this monster meat out of his mouth for a minute and gasps, "Man, you've got a big dick." After Luke gets Mark's huge cock throbbing hard, Ashley invites Mark to finger Luke's butt hole. After a few seconds Ashley asks, "How does it feel?" Mark looks longingly into the camera: "I want to feel my cock in there." Mark inches his huge meat inside and keeps sliding in until he's buried balls deep, then he fucks the bound boy with quick, but gentle strokes. Mark reaches underneath and jerks Luke off while continuing to plow his ass, then he showers a huge load of spunk all over Luke's back.
But it's not over. Ashley tells suggests that Mark would like to play the card game as well. And when Mark pulls the red card, he's tied to the bench in Luke's place and now he gets to service Luke's dick, which is every bit as large as his own.