At 28 years old, Jace Tyler is a little older than a lot of the guys who appear on Staxus. But I'm not complaining, he's a sexy Brit, good looking with a chin dimple and strong athletic body, and a fat dick with an olive-shaped cock head popping out of his foreskin.
Jace is hanging out on the couch with blond Brit Blake Hanson after a game of rugby. They're knackered and chilling out with a beer, and talk of the game turns to one of their humpy team mates who both Jace and Blake wouldn't mind getting in the sack. "I wouldn't mind you neither," Blake says with his thick Cockney accent, then leans in for a kiss. And after a few seconds of snogging, Blake is crawling all over Jace.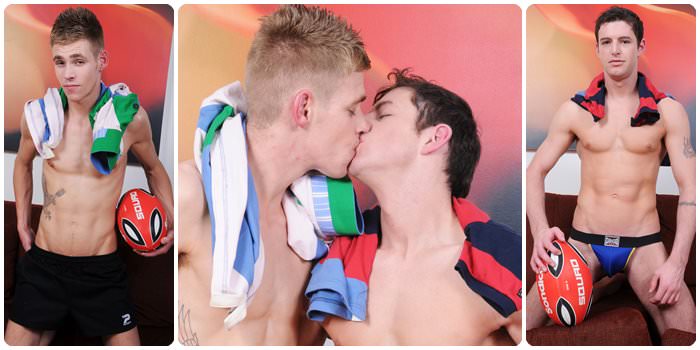 It takes quite a while for the guys to strip completely out of the rugby kits. One peels off a shirt and they kiss some more, then the other bares his taut chest and gulps some cock. Blake can't get enough of his buddy's stiff dick and gives Jace a long mouth fucking. Finally both guys are naked and Jace goes down on his blond team mate and Jace is definitely the better cocksucker, I really enjoyed watching him deep throating Blake's chubby meat. Jace is anxious to feel that dick inside his ass, so he climbs on top and rides it vigorously.
Blake fucks Jace doggy style, then on his back and not only is Jace the better cocksucker, but he shoots the biggest load – three very healthy squirts of thick, white juice blast up onto his chest and a couple of less than energetic pumps on his belly and his balls are empty. Blake sits back jacking himself to the finish line, but where Jace's cumshot sails out of his cock in thick, visible streams, Blake is a squirter with drops of cum flying all over; in fact only a couple of pearls land on his body, the rest have whizzed here, there, and everywhere.