Roman Daniels is lying back on his bed, bare chested and wearing just a pair of shorts. He's surfing on his laptop when blond cutie Scotty Clarke knocks on his bedroom door. "Hey, everyone's gone, do you mind if we hang out?" Roman invites Scotty in and since this is Helix Studios, "hang out" means "will you fuck my ass really hard?"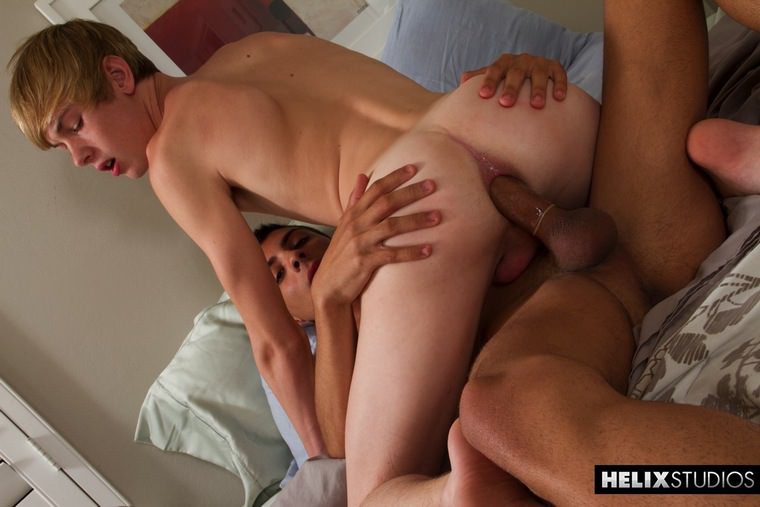 They snuggle up on the bed and check out some porn on the laptop, then Scotty helps himself to Roman's nipple. Roman loves getting his nipples sucked, so this gets him in the mood pretty quickly, and before long he's kissing Scotty. Roman helps Scotty out of his shirt and Scotty unbuttons Roman's shorts and feasts on his hard-on.
With a nice stiff cock staring him in the face, Scotty peels off his jeans and mounts Roman and makes his big dick disappear inside his beautiful ass. God, the boy really does have a gorgeous rear end. Roman grabs two fists full of sweet boy butt and thrusts his hard-on fast up into Scotty's hungry hole. But my favourite part of this scene is when Scotty gets down on the floor, hoists his legs in the air, and Roman plunge fucks him and makes him moan like a girl. If I were Roman I would have slapped the blond and screamed, "Man up!" But Roman seems to like all the whimpering and pounds him silly. And it's not long before Scotty's balls unload all over his smooth chest and belly.