Super cutie Liam Riley only just started his gay porn career and he's already appearing in his third video over at Helix Studios – they know a hot guy when they see one. And I guess the fans over there love him because this is Liam's third video in a week! Normally sites drag things out and make us wait. I'm not complaining, just saying.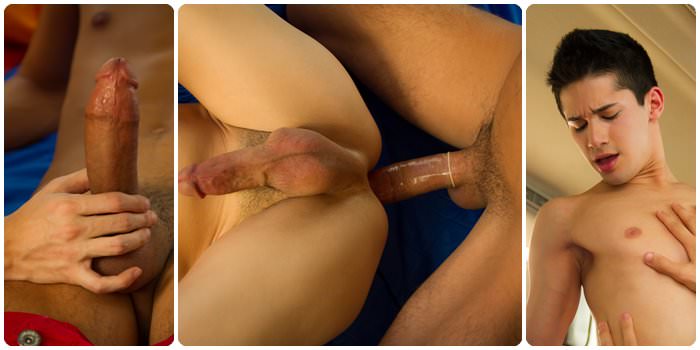 Roman Daniels takes Liam Riley on a day-long adventure showing him California's beautiful beaches and they watch the sunset, Liam's first time doing that with another guy. Liam's adorably cute and he's got a squeaky voice and he and Roman are getting along famously. Roman suggests they spend the night on the beach and Liam's thrilled to share his first beach camp out. "Oh my God, you're my first for everything!"
The guys crawl in the back of the SUV and go to sleep, but in the morning Roman wakes up pretty horny. He had been thinking about jumping Liam all night, but decided to be a perfect gentleman. But now, he wants to continue giving Liam a string of "firsts" to remember. So Liam has his first sexual experience in the back of an SUV. And after lots of kissing and sucking, the cute lad climbs on top of Roman rides his first 9-inch cock. But seeing the way Liam grinds and pumps his butt on Roman's big hard-on, this isn't his first time riding a guy, just his first niner.