Q&A – Dylan Daniels Interviews Liam Riley
Hey 🙂
Welcome to Liam Riley day today on my site. A whole day dedicated to the beautiful, fresh-faced, smooth bodied Helix Studios star! (Whose amazing ass should be illegal – it's that HOT!)
And what better way to kick-off the day than with some quick stats and an awesome Q&A with Liam himself?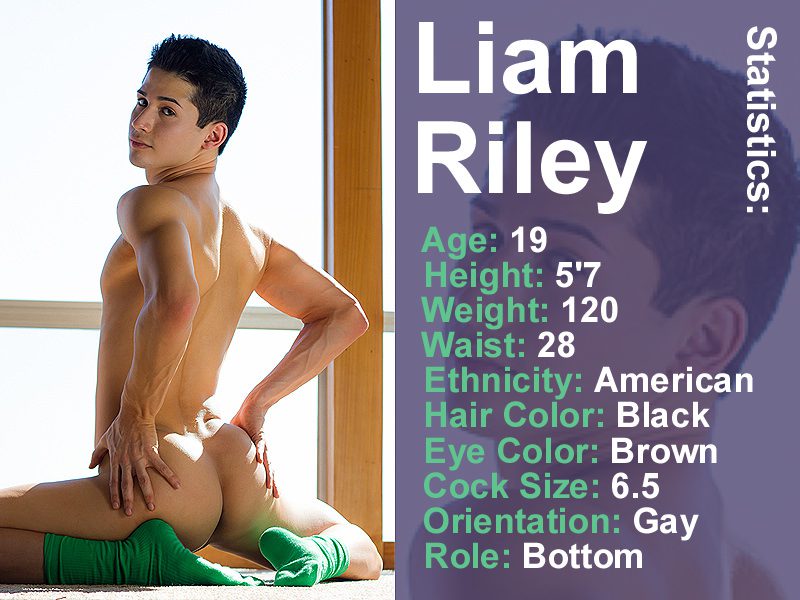 Hi Liam!
Welcome to my site and welcome to Liam Riley Day here at Dylan's Daily Dose! A huuuuuge thank you from me for taking the time to answer these few questions and I'll start off with an easy one;
How are you?
I couldn't be better thank you for asking.
Whose bed did you wake up in this morning?
Well this morning, I woke up in Ohio in a friends bed hah its been a crazy weekend pride was amazing. I've been traveling from Dallas to Ohio, and next is New York.
What did you have for breakfast?
I've actually been super busy and haven't had the chance to eat, aha hopefully that changed within the next hour I'm pretty hungry now that you mention it.
When did you last shoot a scene for Helix and who with?
My last shoot was the first week of June; I've been pretty busy this last month so I didn't get to do a lot of recording. It was with newcomer Lukas Grande he's a pretty awesome guy, I'm excited to see how it turned out.
What was your favorite part of that scene?
I really happen to like the story line, it was pretty cute. Not trying to give it away but I think I'm a little psychic 🙂 hah, but overall it was a pretty fun scene.
What is the weirdest thing you can do with any part of your body?
Well because I used to be a cheerleader I have great flexibility, I can bring my legs all the way up to my head. Aside from the I can also tumble, so flipping my body around is not so weird for me, but for others its like a whole other world.
What do you usually do before and after filming scenes?
Before filming, I love to prep myself up I love listening to Britney spears, I usually shave my body and lotion my body (I happen to moisturize a lot) I also get hair and makeup done by Andy Taylor, and then we pick out our outfits for the scene. After filming I usually don't eat while on set, so I love to pig out and have a lunch or dinner with the models and such, and we usually hang out if not I really enjoy a good nap 🙂
If you had to give Alex Roman (Helix Studios Director/Photographer) a pornstar name, what would it be?
Haha if I had to give Alex a pornstar name, I don't know I feel like it would have to be something kind of funny, Alex is a humorous person. It would be like Latin Papi or something haha
What's your favorite scene you've ever filmed and why?
My favorite scene ever filmed would have to be "Sex En Rouge" I've talked about it so many times, its amazing well done the editing and how it was put together. It makes me so proud that I was apart of it. Andy Taylor was an amazing partner and the chemistry and synchronization was just together, it came along really pretty good. And we got to play music while we filmed because there was no talking during B-Roll so it made it fun at the same time.
Who haven't you worked with yet at Helix who you'd like to in the future?
You know new people come all the time, so I'm excited that I've been here for awhile and now I get to work with new models who haven't filmed before, I've basically filmed with everyone that I had desired to do a scene with at Helix.
What was the last thing you drank?
Probably orange juice, I love a glass of cold orange juice in the morning.
What is the next thing you're going to drink?
Id love a good margarita at dinner tonight, I'm feeling like it's a Mexican food night 🙂
Do you watch porn?
not so much, but I mean I do on occasions.. I have a crush on straight porn star James Deen! Ha
What's your favorite ever scene that you haven't been in?
Hmm, my favorite scene.. I would have to say I love Max Ryder from Cocky Boys he's an amazing person and he is so hot.
Where is your favorite place in the world?
I would love more than anything in the world to be going to Barcelona in Spain, its just so beautiful
What really turns you on?
I really love neck kissing, and kissing on my hips they totally make my body squirm.. I love aggressive guys that take charge and fling me around and make me feel little in their arms.
What position/setting/theme would you love to do in a future scene?
I picked out the last theme for my scene with Evan Parker in our picnic, so it was amazing to watch it come to life and it was like fantasy of mine. It just comes to my mind when I'm like that would be amazing.. so who knows what is to happen next
What is 12 x 7? (Don't cheat!)
like in measurements or is the a multiplication question?  
(It was a math question, but interesting that your first thought was dick measurements…. lol :p)
Thanks Liam, you answered those questions more skillfully than a congressman in court. It's been an absolute pleasure and we look forward to seeing your next scene at Helix!
The pleasure was mine Dylan, and thank you for having me 🙂 this has been really fun.
Xox Always And Forever, Liam Riley
Check out Liam Riley's Helix model page

HERE

for a quick link to all his videos!
You can also check out Liam's Amazon Wishlist page

HERE

, and I'm sure Liam would be more than happy to model any of the sexy shorts or other items gifted to him from generous fans!