Leigh Clarke has the most beautiful blue eyes, they're really striking and sparkle when he smiles. Of course the rest of him is pretty hot, too. Like all of the guys at English Lads, he's got a fit and ripped body. But he's a personal trainer, so one would expect him to be in tip top shape.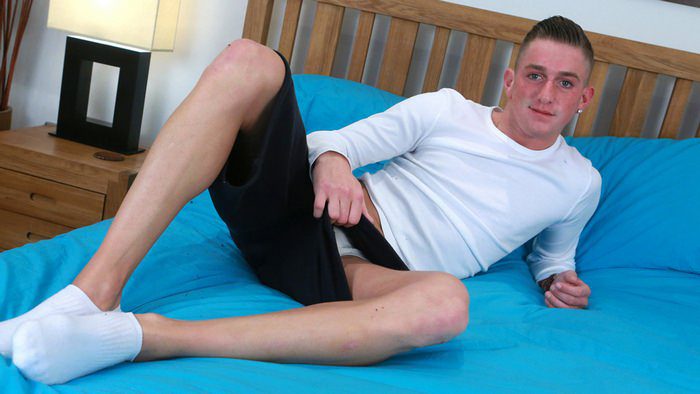 What one doesn't expect from this straight lad is that he shoves a dildo up his asshole. And he didn't need much coaxing when he saw the collection of sex toys they had for him to try out. But first this gym trainer shows off his beautifully strong and smooth body and strokes his rather large uncut dick.
And after doing some jacking on the bed, Leigh shows off his cute bum, then plays with a purple vibrator, then a red butt plug, anal beads, and he tries out a double-headed dildo. This young British lad seems to discover in a hurry that his butt hole feels good with something inside of it. And judging by the heavy cum load he splashes across his ripped abs, he really likes those toys.