Kyle Harley and Alex Jordan only did their first jack-off videos for College Dudes at the beginning of July, but these two horny boys are jumping right in with their first anal sex scene. Kyle is a cute, Southern boy, complete with the twang, and he's sporting a long dick and some sexy face scruff. Alex is adorable, he's lean and smooth, boyishly good looking, and his cock is crowned with a plump, bulging head, the kind of mushroom a cocksucker loves wrapping his lips around.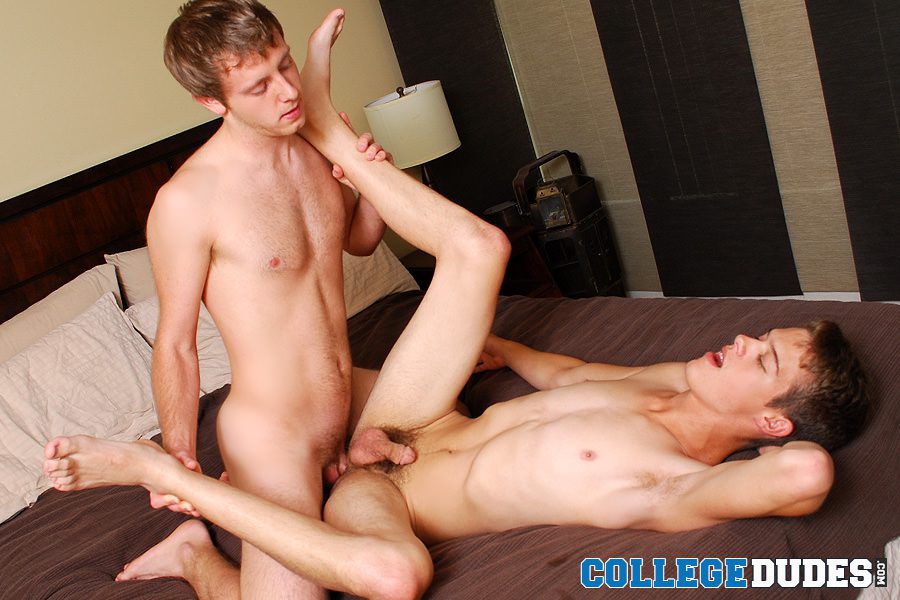 And Kyle does exactly that. He's the first with a dick in his mouth and Alex is doing lots of moaning and eye rolling, Kyle knows how to suck dick. But Alex doesn't make his buddy wait for long some lip action on his stiff boner. Sucking dick is one of Alex's favourite things and with lots of slurping, shaft licking, and deep throating, Kyle is in heaven.
While Kyle is loving the head, he can't wait to get his hard-on inside this cute bottom's ass. Down on all fours, Alex readies himself and Kyle shoves his raw cock inside. But Alex also really loves getting fucked, so Kyle's erection slides right in. Kyle really loves watching his boner plunging in and out of a guy's hole, so he spreads Alex's butt cheeks wide so he can get off on the view. When Alex flips over on his back, Kyle takes things to ramming speed and it's not long before Alex is unloading his nuts. Kyle's really enjoying fucking this tight hole, but when he sees Alex spray his jizz all over the place, Kyle joins in and pumps his juicy load all over his cute buddy. I have a feeling these two might have stopped somewhere on the way home for another round, their chemistry was on fire.