Okay, so if you're a bottom and you haven't been fucked in a while, I don't recommend you watch this new scene from Staxus. Hungarian bottom Kurt Maddox finds himself staring at 23 inches of black cock and these two Dominican studs are anxious to get inside his bright pink fuck hole. Watching one, then the other screw this lad, then both at the same time had me squirming in my seat – it's been a long time since I've had a good ride on such a massive dick, let alone two of them.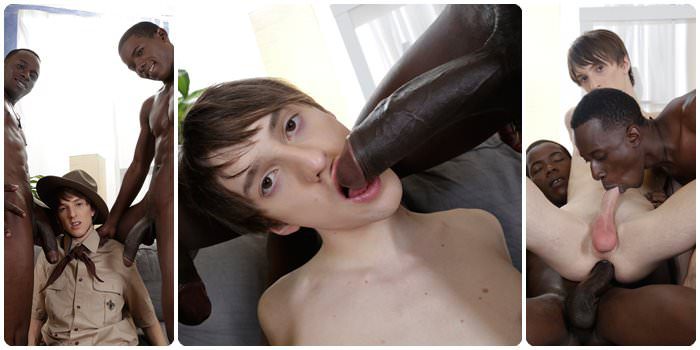 I guess Staxus has picked up some brand new boy scout uniforms because this is the second scene I've seen in a week featuring a boy scout theme. Kurt was supposed to go away on a camping weekend with his scout troop, but he missed the train. He arrives back to what he thinks is an empty apartment, but he's shocked when two naked black men yank him out of the shower and shove their mammoth dicks in his face. Devon LeBron is packing 12 inches and Alejandro Marbena is a little smaller at 11 inches. Wow! What a lucky boy scout!
But Kurt Maddox is a very well-accomplished bottom. For a guy with such a tiny butt I was completely gobsmacked that he reverse sits on Devon and buries his donkey dick as far as it would go, then he proceeds to ride it hard. Kurt flips around and Devon plunges up in his hole deeper and harder than before. Kurt jumps over on Alejandro's dick and gives an encore and Devon moves in behind and manages to slide his dick in Kurt's already over-stuffed hole. OMG!
As if their cocks weren't impressive enough, these two Dominican's both shoot massive cum loads. Alejandro douses Kurt's cute face with his spunk and there's sticky goo everywhere – all over Kurt's lips, dribbling down his chin, even up Kurt's nose. Devon's kneeling beside them and he starts grunting and squirts gobs of white cum into Kurt's mouth and across his face, but Devon is a messy cummer and lots of his jizz splashes down on Alejandro's cum-soaked belly. This scene is definitely a bottom's dream come true. Okay, that's enough, I have to go take care of this problem in my shorts.