Boris Orla and Kris Wallace are out on manoeuvres in the forest, but honestly, they're the prettiest dressed soldiers I've ever seen with tight black pants and black and white tank tops. In fact the only thing that gives us a clue that they're really soldiers is that they're carrying guns. But this is Staxus, and we're not here to watch a war video, we want to see horny young guys fucking.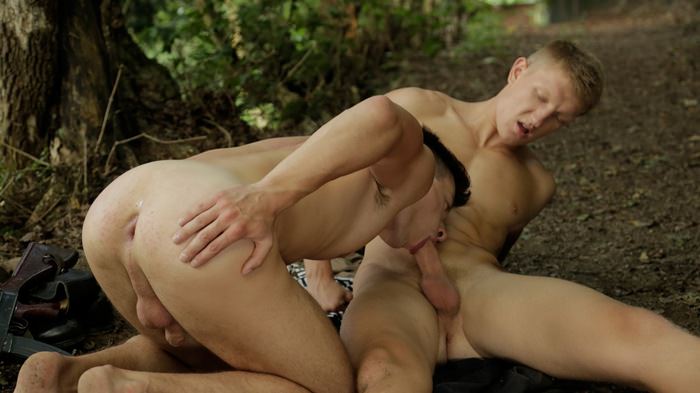 I like Kris Wallace. He's a cute, Polish guy who makes no bones about being a bottom. He loves dick – down his throat and up his ass. And Boris Orla has a juice uncut cock for this horny boy. Boris pushes Kris against a tree and they kiss, then Boris squats and pulls out Kris' curved hard-on and goes down on it. But I love it when Boris sits down on the pile of clothes and Kris gets on all fours and slobbers all over Boris' erection. Kris's tiny little butt is rearing the camera and Boris massages and fingers it while he's getting blown.
Boris bends Kris against the tree and pushes his big dick into the boy's ass, he pumps slowly at first until his bottom's hole opens up, then he drills him harder and more aggressively. A couple of times he pulls Kris up towards him to kiss him with his bone buried in the Polish boy's ass. But I liked the finale when Kris is riding Boris in reverse. He's jacking his meat furiously while bouncing hard on Boris' fuck pole. Then Kris starts panting and his thick load of jizz flies everywhere.
Kris is barely done cumming when Boris slaps his ass, giving the signal that he's ready to shoot – Kris is Polish and Boris is Moldavian, so saying "I'm going to cum" in his native language is going to mean nothing to Boris – but that crack across his freshly-fucked butt gets Kris' face down on Boris' belly and ready to be coated with his buddy's huge stream of spunk, and it's a juicy one.