After seeing priests Theo Reid and Kayden Gray fucking two guys each in their confessional at church, I'm happy to see something a little different from Bulldog Pit, not that I mind watching priests fucking young guys. And it doesn't matter what Kayden Gray is doing, I love this Polish stud and his huge, curved dick.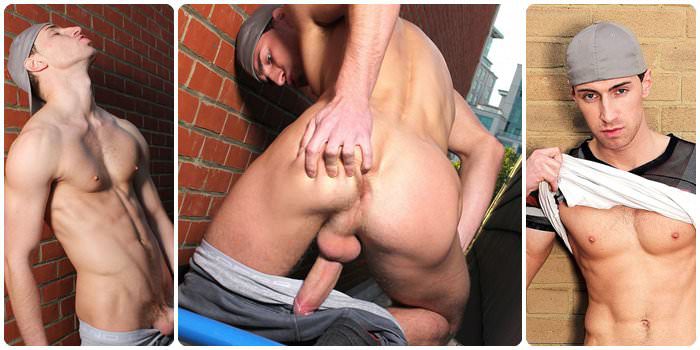 In this scene he's playing a ruffian in his sports gear wearing his backwards baseball cap. He's up on the roof and having a smoke. He needs to piss, so he makes his way between the two buildings and hauls out his dick and lets it fly. He holds his huge piece of meat and sprays his urine all over the brick wall. He takes a final drag on his cigarette and shakes the last drops of piss off his cock, but then decides that he's in the mood for a wank. His balls are big and heavy and full of cum, they could use some relief.
Kayden starts stroking and it's not long before his hard-on is bone stiff and curving up at the sky. He peels out of his clothes and stands naked against the brick wall slipping his erection in and out of his fist. Watching Kayden working his meat is hot enough, but I pretty much lose it when he lets his cum fly. Drops of jizz fall on the camera lens below. It's the cocksucker's view, always so fucking hot to see.