David Circus knows how to cruise. He doesn't hit the bars or local sex clubs, but he's hanging out in a sex-toy store and checking out the guys shopping for dildos, butt plugs, and other fun gear. He cruises shopper Kayden Gray and gets a couple of smiles, and when Kayden pays for a Fleshlight and a dildo and leaves, David follows him.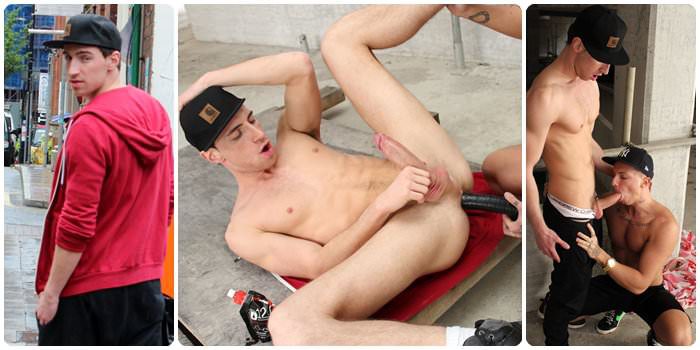 Kayden checks back a couple of times to confirm that this blond Hungarian stud is indeed following him down the street. They head into an abandoned building and find a corner and start kissing and groping. Kayden squats and David hauls out his big, meaty uncut cock – it's deliciously impressive – and Kayden downs it. David does some sucking, too, but he's not nearly as good at oral as Kayden is, but then the Polish stud has a massive and challenging thick, 9-inch dick.
But David is a good ass fucker. He pushes Kayden against a wall and the bottom hikes his leg up on a railing and David slides his long dick inside Kayden's hole. He pounds away, driving his hard-on in and out with deep strokes. Kayden is anxious to try out his new dildo, so he lies back on a piece of wood and his new fuck buddy slides the fake dick in Kayden's ass. The bottom's groans echo in the empty building and he's really enjoying this hole servicing. David moves around to Kayden's face and while the bottom continues fucking his own ass with the dildo, David gets himself ready to unload. He drains his nuts all over the Kayden's smooth chest and Kayden's cum load is only seconds behind. Oh yeah, if like naked guys in baseball caps and sneakers, that's the extra bonus in this cruising scene.