Priest Kayden Gray seems to suck a lot more cock in his confessional booth than he does hearing the sins of his parishioners. One imagines that he'd be disappointed if someone actually want to make a confession without whipping out their cock. The perverted priest is appearing in his third scene over at Bulldog Pit and this time blond cutie Alex Silvers is in the Father's booth.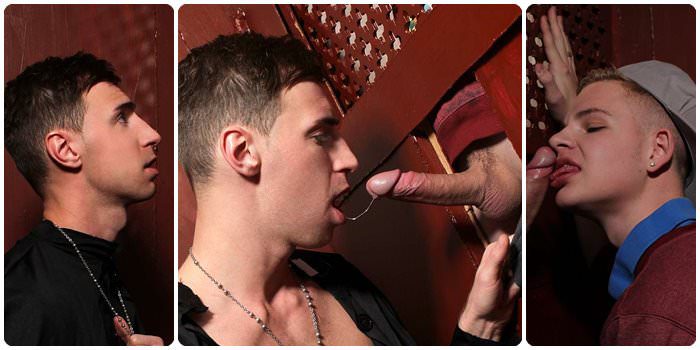 James Dixon was the last lad in the priest's confessional and this new scene gives us a little twist: Alex Silvers is actually James' boyfriend and he's pissed that the priest took James' virginity when he fucked him. The priest thinks Alex is here to blackmail him, but he's really here to get his revenge. "You're going to let me fuck your ass or I'm going to tell everyone what you're doing in here."
Facing public shame, the priest kneels and begins his penance sucking Silver's veiny cock and licking his balls. He worships this boy's cock as if it's the last one he's ever going to have in his mouth. Alex stuffs his blond head through the hole in the wall and the priest throat fucks him with his monster dick. Then the two sinners come together and Father Kayden braces himself against the wall while the blond lad rubs his cock up and down Gray's ass crack. Alex rams his bone deep inside and grabs a fistful of the priest's hair and drills him hard, stopping to kiss the priest neck and nibble on his ear. And these two horny studs seal their secret tryst by blowing their cum all over each other.