When this new video from Eurocreme opens, Kayden Gray is sitting in a locker room enjoying a slow wank. The close-up camera work here is fantastic and really gives me a new appreciation for how big and fat Gray's dick is. It's not only 9 inches long, but it's thick and Gray has lots of loose foreskin and I really got excited watching it sliding back and forth over his cap.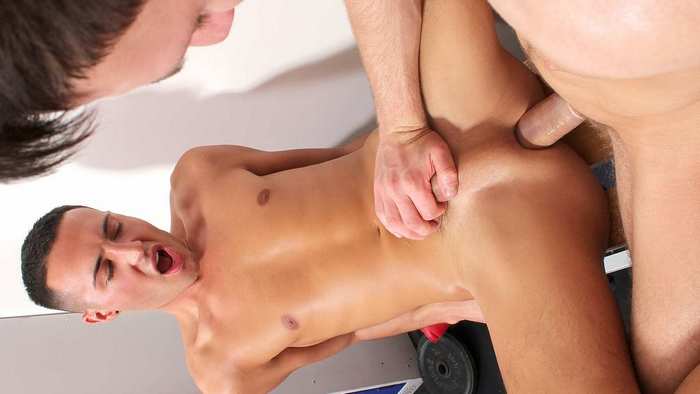 Jordan Jacobs comes into the locker room and stands there shocked. First, he wasn't expecting to find anyone jacking off in the change room, and second, he can't believe his eyes. He stands there for a good long while and I want to scream, "Do you need a fucking engraved invitation? Suck it!" Eventually Jordan does get Kayden's meat in his mouth. The boy has a beautiful pair of lips and gives Kayden's cock lots teasing licks, kisses, and gulps on the head with those plump cock-sucking lips. Kayden grows tired of the tease and rams the boy's head all the way down his niner.
The fucking is pretty hot with Jordan straddling the bench with his ass in the air. As if taking a huge dick up your tiny ass isn't challenging enough, Kayden pushes Jordan's head onto the bench and leans on it with his hand. Now that's the way you fuck a bottom. And Jordan doesn't mind been rough handled one bit, in fact, he's pleading for Kayden to drill him harder, deeper, and faster. Getting exactly the kind of fuck he wants has Jordan draining his balls all over the workout bench and Kayden blasts his cum stream all over Jordan's ass and up his back. And now it's time to hit the showers.