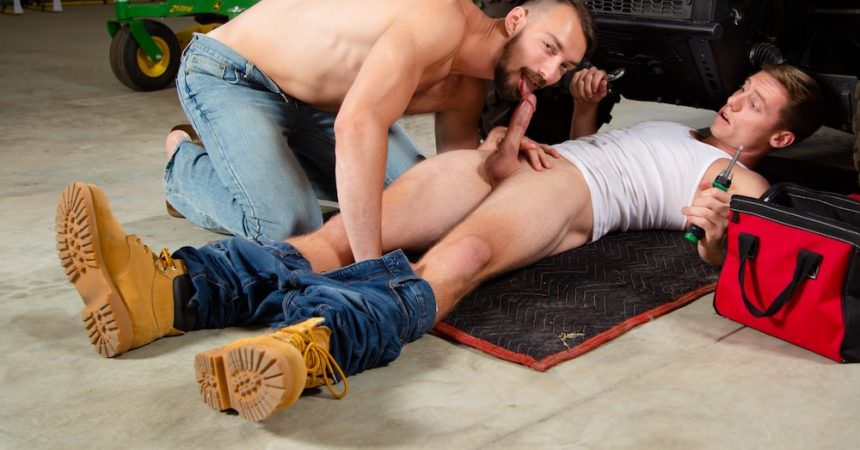 Justin Creampies Johnny
Justin Matthews is working on the underside of the four-wheeler when Johnny B enters the garage. As Johnny chats to him, Justin informs Johnny that he's stuck underneath and asks him to help pull him out. Johnny pulls Justin's legs and notices a big boner in Justin's jeans. Justin says the trapped circulation must be pumping blood into his cock, and he asks Johnny to pull his pants off to look. He then asks Johnny to put it in his mouth to help out, and Johnny is more than happy to oblige.
Johnny sucks and slurps on that dick for a good while but it's not showing any signs of going down. He decides to take further action and rips off his underwear before sitting down onto that raw cock. After bouncing up and down that dick for a while, they decide to try pulling Justin out again. This time it works, and as a thank you Justin then slams Johnny hard from behind, pounding his ass deep and hard against the four-wheeler. They move to the floor where Johnny cums over himself before Justin pulls out and creampies Johnny's hole. He shoves his dick and jizz back into the hole before informing Johnny that he's stuck again!
Dick Detective's verdict: Great! A fun story and a great creampie from Justin to finish it off.