Jordan Thomas is a cute, guy from Colorado, he's 19 years old and tells Boy Crush that he likes to spend his free time hiking and doing outdoor stuff in the mountains. He lost his virginity to his boyfriend between his junior and sophomore year at high school. There's a full interview you can watch, but I was much more interested in watching Jordan pumping a Fleshlight on his cock.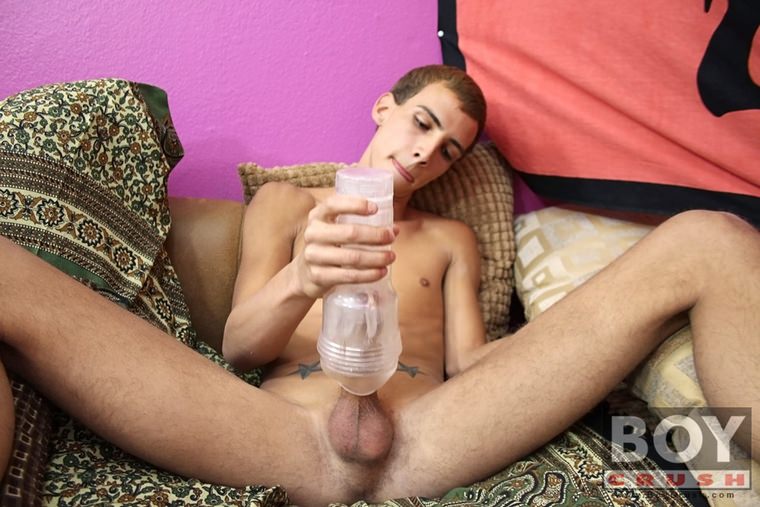 Jordan's sitting in his underwear during the interview and pulls his dick out and starts playing with it, slapping it against his belly and stroking it to get it hard. I'm thinking his smooth six pack in going to look hot in a few minutes covered in spunk. He's got a healthy pair of nuts, too, and bushy patches of dark hair under his arms.
He slides his hard-on into the Fleshlight and he really pumps the sex toy on his cock during a long session. I'm pretty impressed because I've tired a Flashjack and they feel so good on my cock that I can never really last very long. (If you've never tried a Fleshlight, you should get one, they feel awesome on your dick.)
Jordan takes his time to work up his cum load. He also has an interesting pair of balls: They start off hanging fairly snug to his body, but as he gets closer to cumming, they pull up more and more until they're really tight and flanking his shaft. I couldn't take my eyes off them, I loved watching them jiggle and change. By the time Jordan blasts his load of jizz, his balls have almost completely disappeared inside his body and I guess that was so they could shoot out his deliciously big wad.