A Weekend with Lyle continues over at Eurcreme with the next installment. Lyle Boyce, a girlfriend, Jordan Jacobs, and Alfie Bee are hanging out watching DVDs. They're all sitting on the couch chatting, laughing, and watching television. Jordan and Alfie are playing footsie and Alfie is trying to be discrete as he runs his fingers up and down Jordan's leg. The pair keep shifting on the sofa getting closer together.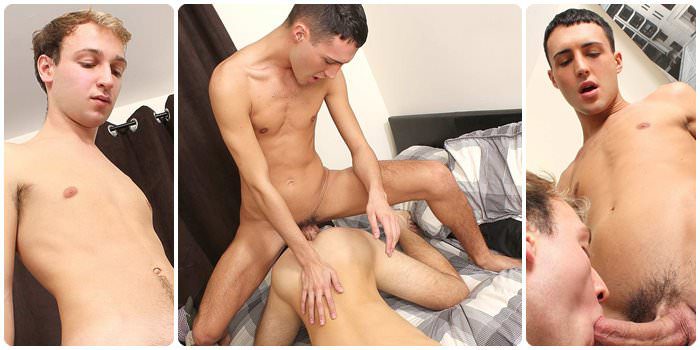 But the guys don't know that they've been set up by Lyle and his girlfriend. And once Lyle sees that their set-up is working, he and the girl make themselves scarce and let nature take it's course. These two horny boys head off to the bedroom for some dick sucking. Alfie has a big, meaty cock and it really takes a lot of mouth action to get that thing to sprout into a strong banana curve. But Jordan is persistent and doesn't stop sucking until he gets Alfie's boner rock hard.
Jordan's dick has been hard since he pulled it out of his shorts and Alfie wants to feel it plunging his hole. Jordan crawls on top of Alfie and pumps the lad sensually with lots of kissing and licking. Then the blond bottom takes over and rides his new fuck buddy's rod, burying it deep inside his hole. And it seems these boys have made a love connection because Alfie shoots a lively load of spunk that sprays up his smooth body and all the way onto his chest.