Porn performers do pick funny names for themselves sometimes. Take Jimmy Little, for example: Why would any performer want to include "little" in their name – doesn't exactly inspire you to want to check them out. And the odd thing is that Jimmy Little's cock isn't little at all; he's not mega huge, but he could fill up your mouth or ass pretty good with his tool, and you wouldn't be complaining.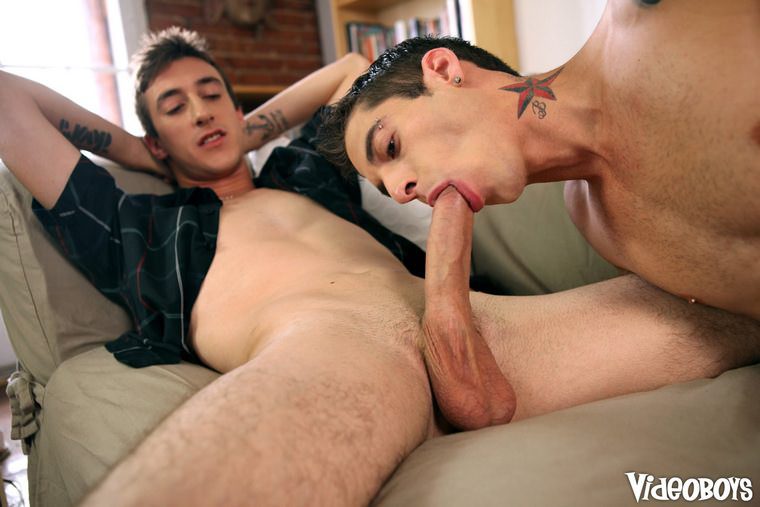 Ben Rose and Jimmy Little are kicking back and watching some TV is this Video Boys video. After flipping through the channels and finding nothing interesting, Ben asks if Jimmy would like to watch some porn. No sooner does he say, "Sure, why not?" than Ben pops a big cock up on the screen. After a couple of minutes, Jimmy says that he feels like jacking off. The boys slide their hands in their jeans, then they peel them off and start stroking their hard-ons together.
A reach over leads to some kissing, then Ben and Jimmy start sucking each other's dicks. And Ben feels like doing a whole lot more than necking and blowing, so he offers his ass to his buddy. Lying back on the arm of the sofa, Ben hoists his furry legs up on Jimmy's shoulders and gets his hole stuffed with that no-so-little cock. Then Ben lies back and gets thanked for the fuck as Jimmy gives him head while dumping his creamy load of spunk all over his smooth belly.