I'm appalled at the number of guys who just don't seem to know how to suck dick. They put a dick in their mouths then bob up and down on the head a million miles an hour – it's boring to watch and must be equally uninviting to experience. There's an art to giving good head – licking the shaft and balls, kissing a guy's cap, deep throating, giving the head lots of lip action, sucking fast, and sliding your lips slowly up and down his shaft, and the balls, don't forget that guys have nuts. Ireally enjoyed watching JR Adams servicing Jasper Robinson's dick in this new scene from Boy Crush – he's a full-service cocksucker and the boy can suck dick.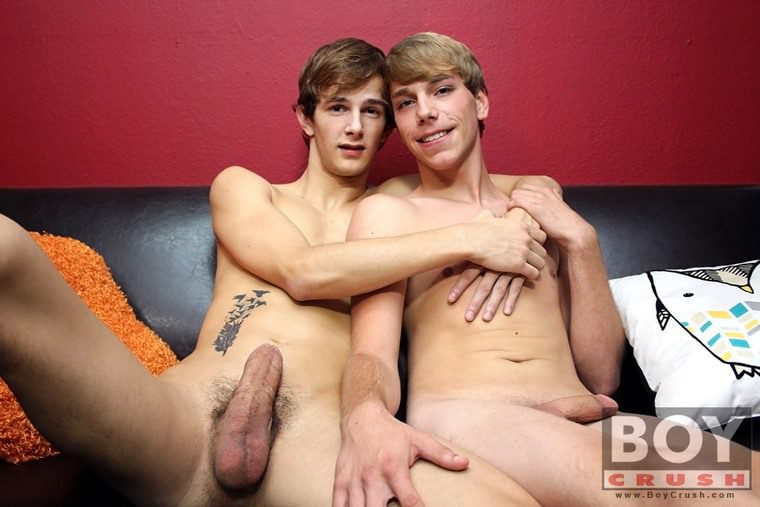 I'm a big Jasper Robinson fan, I love this stud. He's so good looking and he's always so passionately involved with his partners; every time I see him it looks like it's the last time he's ever going to have sex. But I can never quite decide whether I prefer him as a top or a bottom. I'll see him getting his ass boned and think, "Yeah, I really love watching him getting fucked," then I'll see him topping a guy and I change my mind.
Well, watching Jasper fucking JR in this Boy Crush scene was such a turn-on that I'm back in the Jasper the Top camp. He lies JR back on a leather ottoman, lifts his legs, and respectively inches his cock inside. JR grimaces, but as his hole loosens up, Jasper picks up the pace. Sometimes deep and slow strokes, sometimes hard and fast thrusting, and other times burying himself balls deep and leaning in for a kiss, Jasper knows how to fuck butt. And it's pretty clear that JR is in heaven and doesn't want this fuck to end, but it has to, and it does in two cummy facials.