Evan Parker is throwing a party for some of his friends. Jamie Sanders shows up a little late because he's had some drama with his car. Evan offers his couch for the night so Jamie doesn't have to head out early to catch the trolley. When a mysterious newcomer, Adrian Rivers, shows up, sparks start to fly and Jamie's glad he accepted the offer to spend the night.
When Jamie and Adrian finally get to talking they discover they're neighbours of a sort – Jamie's Puerto Rican and Adrian has just arrived from the Dominican Republic. When the party winds down and Evan heads off to bed, Adrian says, "You don't have to sleep on the couch, there's lots of room in my bed." But this is a Helix Studio video, so you know these boys aren't going to get much sleeping done.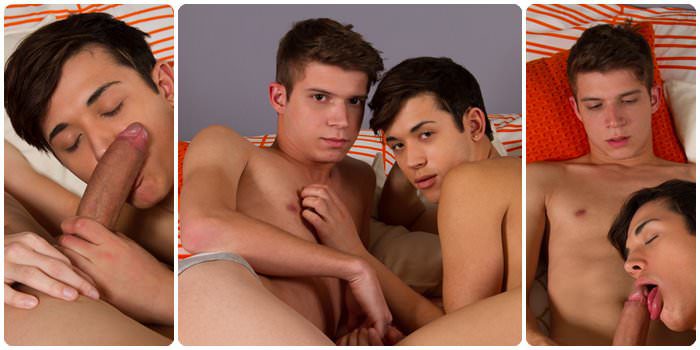 I fell instantly in love with Adrian Rivers when he first showed up on the site back in November. He's a good-looking, 19-year-old lad with soulful brown eyes and sexy, kissable lips. And when Jamie slides off Adrian's underwear, he discovers the boy is packing a big, 9-inch cock with an olive-shape cock head squeezing out of his foreskin. And Adrian shows Jamie how good his big Dominican dick feels invading his bare hole. But Jamie's a skilled bottom and has no problem accommodating Adrian's big tool. This is only Jamie's third scene with Helix Studios and I'm looking forward to seeing this sexy lad fucking a hot more butt over there. If you haven't seen him before, you've got some catching up to do.