Tyler Dee and Christian Martin know they're being followed down the street, they keep looking back to encourage a cute, young guy to continue after them. And he does, all the way home. But Tyler and Christian are a couple of the rudest boys you'd ever want to meet. They sit down on the couch together and immediately start making out while their guest watches from the other sofa.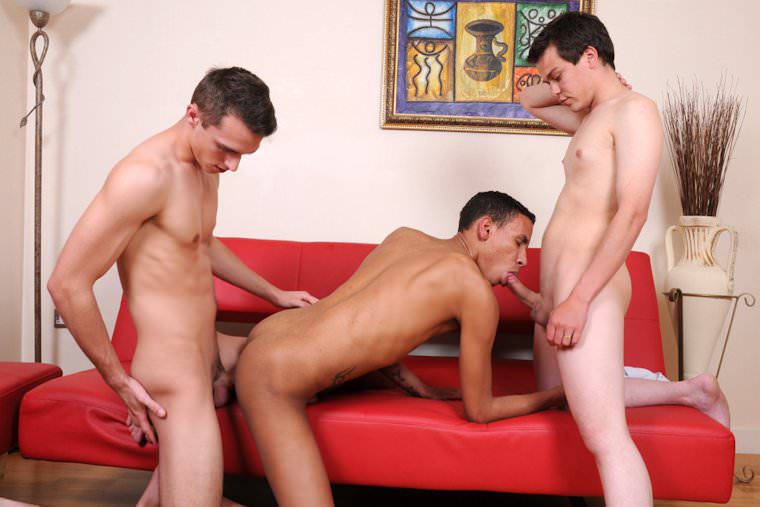 Orlando pulls out his cock and jacks it watching Spanish bottom Christian stretch his hungry mouth around Tyler's super thick meat. They don't invite Orlando to join in, Christian keeps slurping away. Even when Orlando stands right in front of them jacking his long uncut dick, they pay him no attention – not even a look! A lot of guys would just leave, but Orlando sits down on the couch behind Christian and watches him slobber all over his room mate's hard-on.
Orlando finally takes matters into his own hands, forcefully pulling the bottom to his knees, and shoves his hard dick up the rude boy's ass. Orlando is a lot gentler than I would have been and pumps the boy with slow strokes. But then Orlando flips Christian over and fucks him harder missionary style. When Tyler wants some of that Hungarian dick, he horns his way in the middle and while their hook-up drills his hole, he sucks Christian's big-nobbed dick. With Orlando pumping his ass, Tyler unloads his balls all over his belly. Christian dumps a massive cum load all over Tyler's face coating his cheeks and mouth – you can even see Tyler blowing cum bubbles – and Orlando adds his sticky mess to Tyler's cum-soaked belly.