Sometimes a scene comes together so perfectly that it should be voted into the gay porn Hall of Fame and this new video from Helix Studios is one of them. So what makes it so special? It starts off with a great opener – Matthew and Dylan and sitting on the edge of the bed playing a video game and Matthew keeps hitting Dylan's controller to throw off his game; eventually Dylan throws his buddy back on the bed and tickles him relentlessly. Sitting on top of Matthew and making the boy giggle, Dylan finally says, "Do you have a boner?" Perfect set-up that isn't dumb to get us into the sex.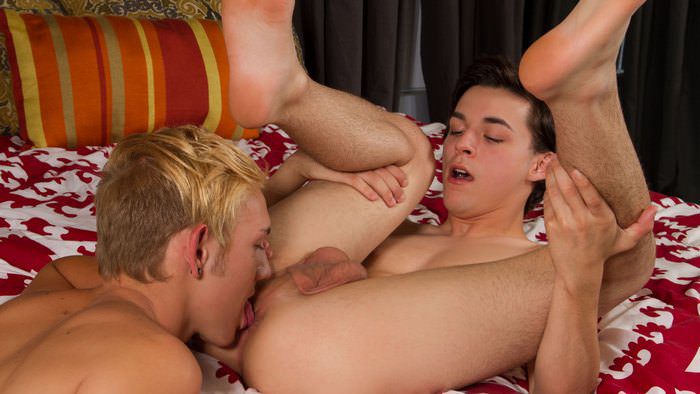 The boys start to kiss and Matthew starts sliding his hand down Dylan's jeans, the blond stops him, jumps off the bed, and does a seductive strip tease. If Matthew didn't have a boner before, he does now. Matthew and Dylan are really good kissers, passionate and such a turn-on to watch. Dylan starts stripping off Matthew's clothes. Guys, those tight, straight-legged jeans might look cool, but they're a bitch when you're trying to pull them off in the middle of a porn scene. Watching Dylan try to get these things down Matthew's legs and over his feet is funny, but it also just added to the scene's fun for me.
The guys skip the blowjob action and Dylan shoves his big, hard cock in Matthew's ass. There's some hot underneath camera action that lets us see the blond's dick pumping Matthew's smooth hole. And Dylan has a tight pair of pretty balls. When Dylan sits on Matthew's dick, the brunette's own balls are a big pair of knackers that hanging between his legs and rest on the bed. The other thing I loved about this scene was the sex noise. These two boys weren't yelling their heads off and belting out a chorus of "oh yeahs," just lots of soft grunts and panting.
So to recap: fun opener, guys barefooted in jeans, tickle fight, passionate kissing, sexy strip tease, the guys get right to fucking, raw cock flip flop fucking, small balls and big ones, two good-sized dicks, sexy grunting, and of course two cute boys … this one will definitely go in your personal spank bank for a while.
[button color="red" size="big" link="http://www.dickdetective.com/helix" target="blank" ]GET THIS HOT SCENE AND LOADS MORE – CLICK HERE[/button]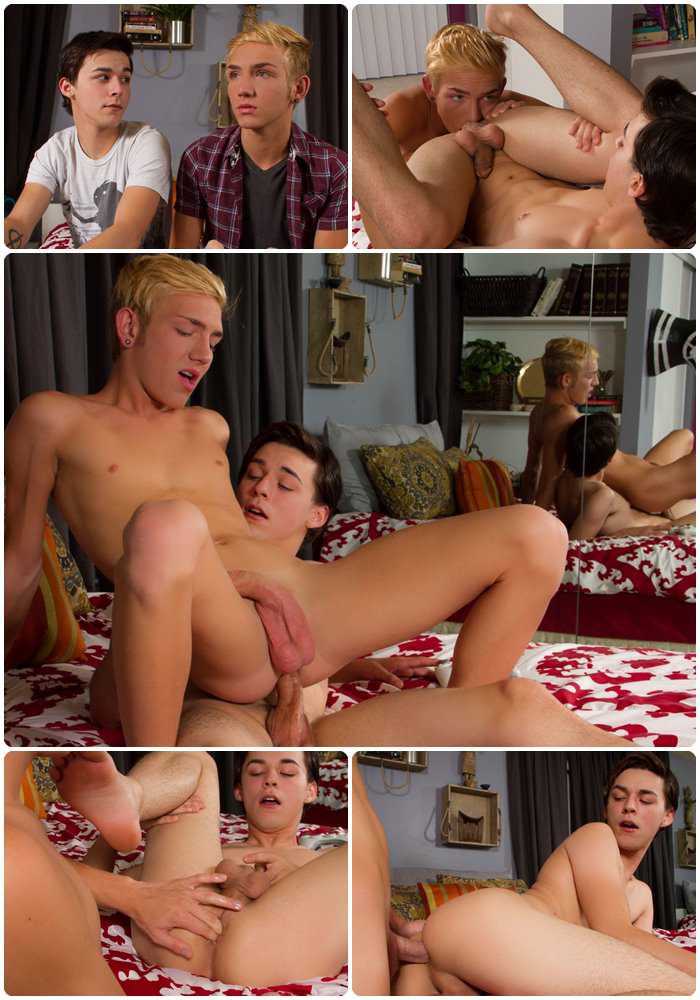 [button color="red" size="big" link="http://www.dickdetective.com/helix" target="blank" ]GET THIS HOT SCENE AND LOADS MORE – CLICK HERE[/button]