I love kissing, so the first thing I noticed about Bradley Cox was his plump lips. They're not the most beautiful lips I've ever seen; they're a bit crooked, sometimes curling into a bit of a snarl, but they do make me think of a long kissing session.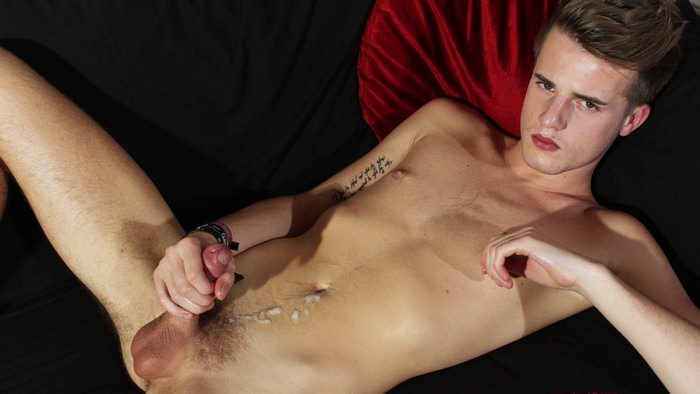 Bradley is a 19-year-old Londoner and he's doing his first jack-over video for Hard Brit Lads. He gropes his stiffening dick through his white Calvin Kleins. And not yet distracted by his cock, I notice that his legs are very furry. And when he rests his hand behind his head, he's sporting dark hairy patches under his arms. Bradley is gay and prefers to be active in bed, but he can flip over for the right guy.
I loved watched this blond British lad sliding his greased foreskin up and down his shaft. He slips it over his plump and misshaped cock head. He gets very horny, writhing on the couch. As his cum load starts churning up from his balls, he draws his feet closer so they're pressed together sole to sole. And just before his cock explodes his juicy load of jizz, he curls his toes, then he pants and he unloads all over his sweaty abs.