Matthew Keading arrives home to find his lover, Hunter Page, waiting for him with a blindfold. In this new Helix Studio scene, Hunter and Matthew spice things up with a bit of kinky play. Hunter ties the blindfold around Matthew's eyes, then pushes the cutie down on the bed and strips him. Keading has no idea what's waiting for him.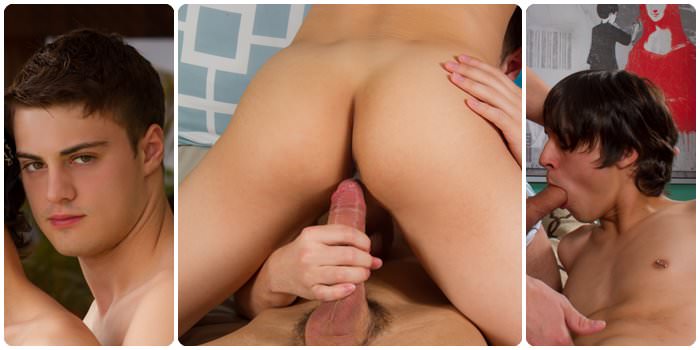 Hunter has a couple of feathers on a stick; he teases and tickles all the sensitive parts of his lover's smooth body – his underarms, the sides of his body, his cock and balls, and finally his bare feet. Matthew squirms a bit, but not too badly. Then Hunter grabs an ice cube and slides it up Matthew's belly, sending the boy into gasps with his toes curling as Matthew squirms on the bed. Hunter warms up Matthew's cold skin with some wet kisses before lighting a candle and really heating things up.
As each drop of hot wax falls on Matthew's cool skin, the boy jumps and giggles. Finally the blindfold comes off and Matthew takes over gulping Hunter's big dick. Once Hunter's hard-on is rock hard, he pushes Matthew on his side and fucks his ass, plunging his eight inches deep inside the boy's hole. Then Matthew mounts his lover and rides his bone until his cum load splashes all over Hunter. And Matthew has one last thing to endure when Hunter drains his nuts all over Matthew's beautiful face, but the lad doesn't mind.