One of the things I like about English Lads is that they feature a lot of studs who are personal trainers with beautifully lean and ripped bodies. The site must have a few scouts stationed outside London gyms waiting for these guys to hit the street; pumped with testosterone, they're perhaps a little more willing to agree to shed their clothes for a gay porn site.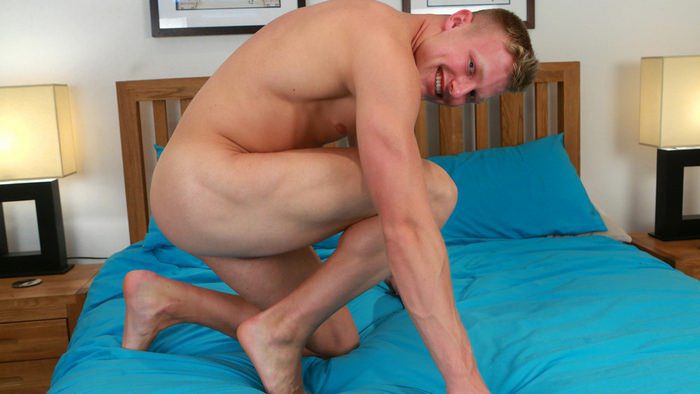 Marcus is a cute blond guy and he's making his first video with English Lads and showing off his ripped body. Pink or blue underwear, I don't care, he's got a sexy body, smooth with an awesome set of shredded abs. Marcus starts off in jeans and a t-shirt, but he's one of those guys who seems to get more confident as he stripes off his clothes.
Like most of the guys at English Lads, Marcus has an uncut cock. It's nice and chunky when it's soft, but when he gets that thing hard, it shoots straight up in the air like a rocket. And this blond cutie isn't shy about showing off his smooth butt hole either. After the strip show he lies back for his first-ever on-camera wank and coats those beautiful abs with spunk.