Hung Drake Law Returns to Pound Blond Ass
I have a Dutch friend who has been telling about a fellow countryman who has started filming gay porn, so when I saw blond cutie Andro Mass show up on Eurocreme, I decided to check him out to see what all the fuss is about. He's paired up with Drake Law, who is also fairly new to porn and both guys seem to have gotten their start over on Blake Mason, although they didn't do a scene together over there.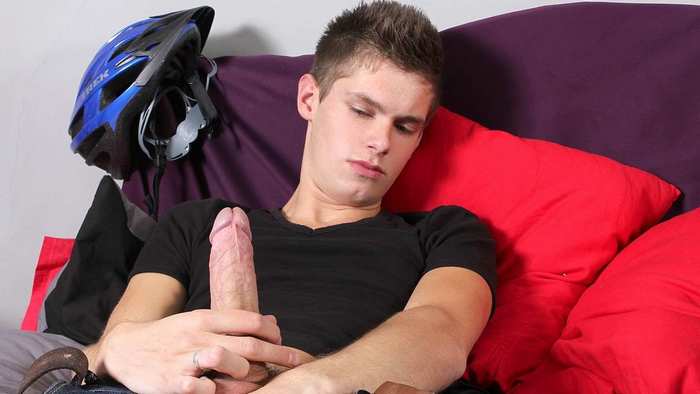 Mass is a sexy guy. The first thing you'll notice about him is his strikingly shocking blond hair, he's as fair as can be and all natural, and he's sporting some sexy scruff on his face. The second thing you'll love about Andro is watching him sucking dick. He's got a plump pair of lips and knows how to use them. He goes down on Drake's big dick and gives him the full service treatment with deep throat strokes, long licks up and down Drake's throbbing shaft, and swirling his tongue around Drake's sensitive cock head.
There's a moment when the camera gets in close on Drake's face and we can see Andro's blond head bobbing in the foreground. Drake is enjoying this blowjob so much that it looks like his head is going to explode from the sheer pleasure he's feeling. Andro mounts his buddy and rides his hard-on, making Drake's cock feel even better than before. Finally, Drake takes over and drills this Dutch boy's ass and with Andro biting the blankets and writhing his ass to meet Drake's stroking, you know he's in bottom heaven. Does Andro live up to my friend's excitement? Definitely! And Drake Law is one hot cutie, too, and he fucks as well as Andro sucks.