If you've seen a football, soccer, or rugby game, you know that there's a lot of ass slapping, high fiving, and hugging on the field. By the time the game's over, the players are pumped full of testosterone. In this Staxus video, Damian Boss, Jonny Kingdom, and Christian Martin are hanging out after a rugby game, drinking beer and watching another game on TV.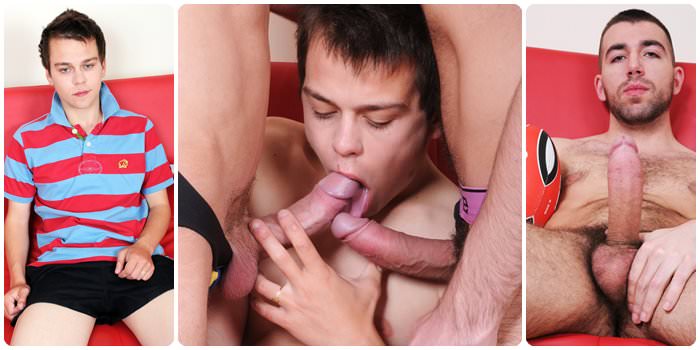 But all that man-on-man comradery on the field has gotten Damian pretty revved up. "This is boring. I'd rather be doing something else," he grunts, hauling out his big, semi-hard cock and starts stroking. Christian's eyes are bulging out of his head, and seeing the lad's interest, Jonny reaches over and pushes Christian's head towards his buddy's tool.
After some horny threeway sucking, Damian pushes Christian onto his belly. Lying across the couch, he's chowing down on Jonny's thick hard-on and Damian climbs on top and slides his massive dick in the lad's ass. The rugby players swap and Damian sits back and gets some head while Jonny pumps the boy's cute butt. Christian lies on his back across the couch and Jonny is really drilling his ass fast, Damian stands over Christian's face and unloads a massive blast of creamy juice all over him. See all his buddy's jizz gets sends Jonny over the edge and he pushes Damian out of the way and his dick sends several thick squirts sailing down onto Christian's cum-soaked face. And the bottom finishes himself off erupting several lively pumps of boy juice all over his t-shirt.