Felix Webster is a lanky blond guy and he's looking for a new suit, so he arrives in Zac Todd's boutique for a fitting in this new video for Staxus' Monster Cocks. Frankly, while both Zac and Felix have biggish dicks, I wouldn't call either of them monstrous, especially not after I just watch Devon LeBron trying to stuff his 12-inch black cock inside Dick Casey's ass.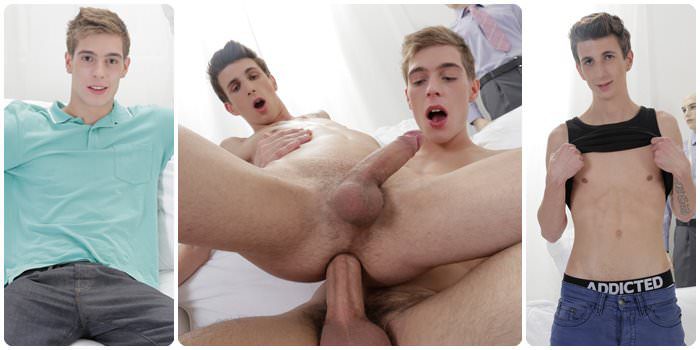 Felix stands fully clothed while the tailor kneels and takes some measurements. There's some chatter back and forth, but the guys speak Czech and without subtitles I can't figure out what they're saying. But there seems to be some discussion about whether Felix dresses on the left or right, which means on which side does he let his cock hang in his trousers.
With all the touching and groping, Felix's meat is stiffening and Zac decides to see just how big Felix's cock gets. He pulls it out and swallows it. And after Felix's hard-on gets very stiff (and it is impressive) Zac instructs him to sit back on the sofa and mounts him backwards. Zac slides his tiny butt down Felix's hard-on and rides him vigorously. For the finale Zac lies on his back and gets his ass drilled. With Felix pumping his hole, Zac's pink cock head oozes out a slow moving, but very thick load of spunk. It slides down his shaft rather than squirting and flying. Then Felix pulls out of Zac's ass, mounts the boy and lets his watery load of jizz splash all over Zac's neck and smooth chest and Zac catches the last few drops of cum on his tongue.