Petr Kluk and Lee Foxx are a couple of fuck buddies who get together regularly to take care of each other's cocks. In this Sweet and Raw video dark-haired Petr has just dropped by his friend's apartment and the boys don't waste any time getting down to some horny sucking and fucking.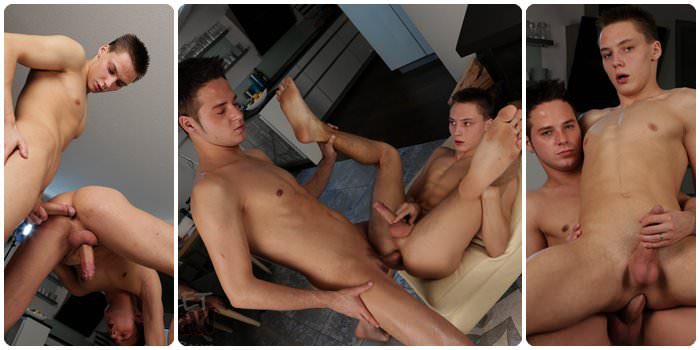 Petr is lying back in a comfortable chair, stroking his thick uncut dick while Lee pumps his throat. But Petr loves licking balls as much as he enjoys swallowing cock, so while Lee strokes his meat, Petr slathers is tongue all over the boy's shaved nuts. Petr turns Lee around and buries his tongue in his fuck buddy's ass crack. Lee hikes a leg up on the chair so his buddy can get in good and deep.
I'm a little surprised to discover that Petr is the top in this pairing. The way he was chowing down on his buddy's dick and licking his balls and asshole, I figured he was going to get his ass stuffed. But I'm just as happy because Petr has a juicy thick cock and it's a turn-on watching it stretching Lee's tight and smooth butt hole. There's lots of close-up cock-in-ass camera work here so you can enjoy this fuck as much as Lee does.