School dormitories, drunk guys, and sleeping lads in pajamas, this new Staxus video proves that life in a private school isn't all classes and homework. David Hanson and Oscar Roberts arrive back in their dorm room and they're completely blitzed; Aaron Aurora and Kurt Maddox are tucked in their beds.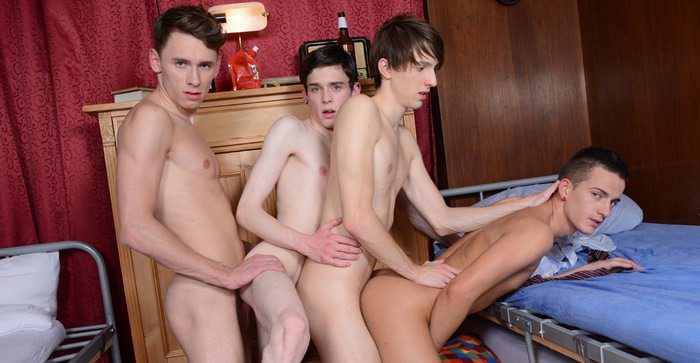 David and Oscar pick a bed, sit on it and begin telling their dorm mates stories of their drunken night. But they're horny too. Oscar has his dick out his zipper pretty quickly, and in spite of being sleepy, Kurt swallows it. Over on the other bed, Hanson pulls back the covers and sees Aaron's dick stiffening in his pajamas. He unties them and pulls out Aaron's plump nob and wraps his lips around it. The guys continue sucking each other on their beds, but Hanson is the first one with a dick up his ass. He lubes Aaron's hard-on and sits on it.
With Oscar blowing him, Kurt watches from the other side; but he wants to get fucked too so he gets down on all fours on the floor and lies his chest across the bed. Oscar happily fucks him. Then bottoms become tops and do some bed hopping to screw their other buddies. But the fourway daisy-chain fuck is the best: Hanson is back to bottoming and he's bent over the bed, Kurt sticks his dick into Hanson, Aurora slides in behind Kurt, and Oscar brings up the rear. Oscar sets the rhythm and jack hammers Aurora's little butt. The others move in tight and squirm back and forth until they're ready to cum. I don't want to spoil the ending, so all I'll say is that one of these guys lies back on the bed and gets doused in cum.