I'm pretty happy to see Hunter Page making his debut at Helix Studios in this video called Chasing Daydreams. I've enjoying watching this very cute guy on other sites. He's a good-looking lad with beautiful lips and soulful eyes; he's got a lean body, completely smooth except for the dark trail climbing towards his navel. And his cock is long and thick.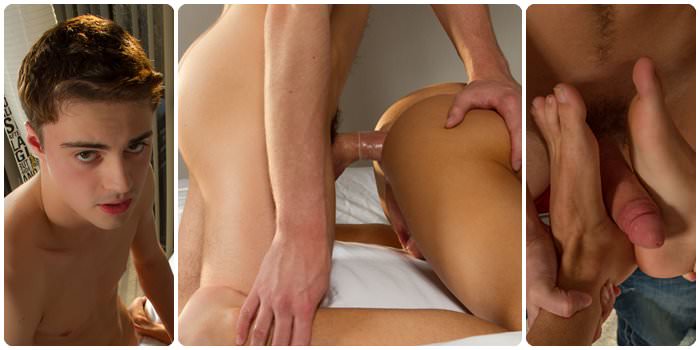 Luke Allen is sitting outside a restaurant, texting with a friend and oblivious that Hunter is spying him from across the street. Luke finally pulls his head out of his cell phone and sees this hunky guy staring at him. Hunter nods, flicks his head telling Luke to follow him, and the chase begins. The two finally meet up in an alley, Hunter approaches and kisses Luke on the nose – so cute – before planting those beautiful lips on Luke's.
The two head back to Hunter's apartment for some passionate making out. Hunter kisses the soles of Luke's bare feet and guides them onto his big, stiff dick for some rubbing fun. Then the boys settle in for some slippery cock sucking. Down on his knees with his ass hanging over the bed, Luke gets his tight butt filled with Hunter's dick. And when the horny fuck session is over, we see Luke sitting back in front of the café staring at the spot where he saw Hunter. But the sexy guy isn't there, so did this really happen? Or was it all a daydream?