Nathan Levi and Denis Master are a couple of first-timers filming their first video for Staxus. They're each 20 years old; Nathan is the blond while Nathan is the dark-haired cutie. And they pretty even matched in the dick department, both sporting 8-inch dicks. As the scene opens, Denis is lying back on the bed enjoying Nathan's mouth working his stiff dick. Nathan's a good cocksucker with lots of lip and hand action and every minute or so he pulls his buddy's hard-on out of his mouth to slide his tongue up and down his quivering shaft or to lick his smooth balls. Denis can't believe how good Nathan's mouth feels.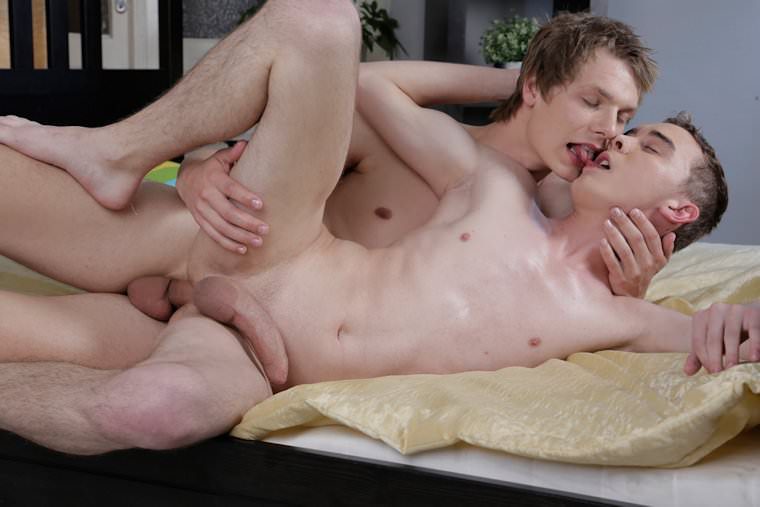 Nathan pulls off his underwear and kneels over his buddy and Denis takes his turn swallowing Nathan's thick meat. Even rock hard, Nathan's shaft is still mostly covered in foreskin. To be honest with you, Denis isn't as good at sucking dick as Nathan, he still needs some more practice. But Nathan really enjoys giving head and returns back to blowing Denis. But this time as the blond bobs on his buddy's erection, he pumps his own hard dick against the bed. Nathan mounts Denis and throat fucks the boy while paying more attention to his cock then he hooks Denis legs under his arms and drives the bottom's ass crazy with his tongue.
Nathan moves around, puts Denis' legs on his shoulder, and inches his fat dick inside Denis' juicy raw butt hole. Denis grimaces, but Nathan's prick slides right in. With his ass warmed up, Denis lies on his side and holds his leg in the air while Nathan spoon fucks him fast and jacks the bottom's boner. Nathan gets down on all fours and offers his puckered hole and Denis squats over him and drills his ass hard. This position got my dick the hardest: seeing Denis well-fucked hole right there with his hard-on pushing into Nathan's ass and Nathan pulling on his own meat; it's sensory overload, there's too much to take in and I want to unload my balls right then.
Denis blows his wad up Nathan's ass (I guess he didn't know that he's supposed to spunk a guy's hole so we can see it) but when Denis pulls his dick out, Nathan squeezes his ass and pushes his buddy's cum load out of his well-fucked hole. That does it for me and I can't hold back any longer. What a hot fucking sight! Nathan needs to empty his balls, too, and lies back with Denis' face inches from his cock and Nathan squirts his creamy white juice all over Denis' mouth.