Cute, young and spunky UK Hot Jock Kenzie Madison is a bit more of a twink than a jock. However, don't let that sweet and pretty face fool you. With that banging hot body and piercing blue eyes he's totally irresistible and a totally dirty boy. You'll be seeing a lot more of Kenzie but for now, feast your eyes on that huge, thick cock. He loves stroking it, especially while he's got something big and hard shoved up his ass, pounding away and hitting that magic spot.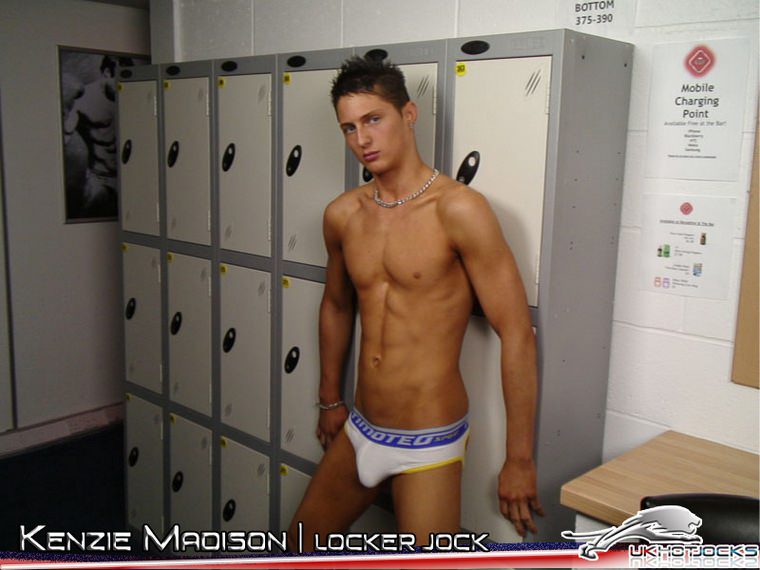 Watch Kenzie and his tight, toned body. With loads of character, charisma and a cheeky attitude — not to mention his natural swagger and bling — this bad boy strips down in the locker room and checks himself out in the mirror. Liking what he sees, he gets down to his white and blue jock, rubbing his tanned body. As his bulge grows, Kenzie whips out that huge tool and starts pumping. But he's too hard for his underwear. Kenzie slips off his underway and, from a nearby locker produces a black butt plug. He immediately bends over the stool, lubes himself up, then shoves the toy up his ass. Kenzie climbs up on counter and lays on his back, legs up in the air. Probably wishing there were a hung muscle stud giving him a good and proper fucking, Kenzie pounds away on that thick slab of meat.
Meanwhile he fucks himself with the butt plug — whimpering but loving every minute — then gives himself over to the orgasm that racks his body. Panting, and with eyes rolled back, the sexy twink-jock sprays a thick gooey load all over the stool. And what's this? He shoves a finger in his mouth. Is that his own cum he's tasting?!