I wonder how often this happens in an underwear store. Matthew Keading is working behind the counter at The Changing Room in this new video from Helix Studios. He can't help but notice a cute customer (Jacob Dixon) checking out the underwear. Jacob has a selection of briefs and Matthew directs him to the fitting rooms. A couple of minutes later Matthew asks Jacob if the sizes are alright and Jacob sticks his head out of the curtain to see if the store clerk can come in and tell him how the underwear look.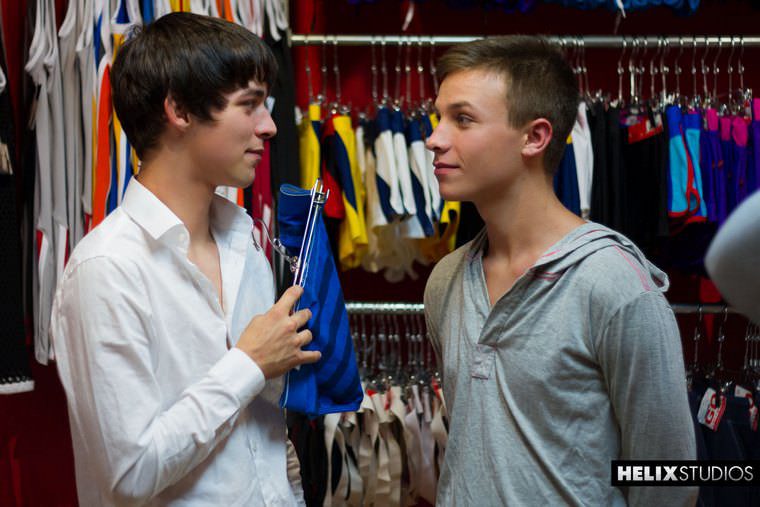 Jacob is standing in a pair of blue Andrew Christian briefs that really show off his bulge, and I mean like "Holy shit! Is that a grapefruit in your shorts?" Matthew kneels to help straighten out the legs and Jacob's massive crotch is pushing right in his face. "They look great," he says, trying to leave. But Jacob wants to try on another couple of pairs, so he strips right there and the clerk gets another eyeful. The CellBlock 13 briefs look just as sexy, but when Jacob tries on the Timoteo jockstrap he says, "Hmmm … I don't think they fit." Matthew looks down and sees Jacob's cock hanging out of the side.
Matthew has had about all the teasing he can take, so he squats to see how big Jacob's cock can get in his mouth. And it's a long one, indeed. But Jacob wants to check out one more fitting – his big raw cock insides Matthew's ass. Does it fit? Like a glove. And Matthew wins Employee of the Month for making sure his customers get everything they want.