Cute and skinny Jordan has been wanting to get Ryker into a threesome with his buddy Jasper. So when Ryker arrives in this video from Boy Crush, they put him in a position where he can't say no – Jasper and Jordan get on their knees and feast on the stud's cock together. By the time his dick is rock hard, he's ready for anything they're offering.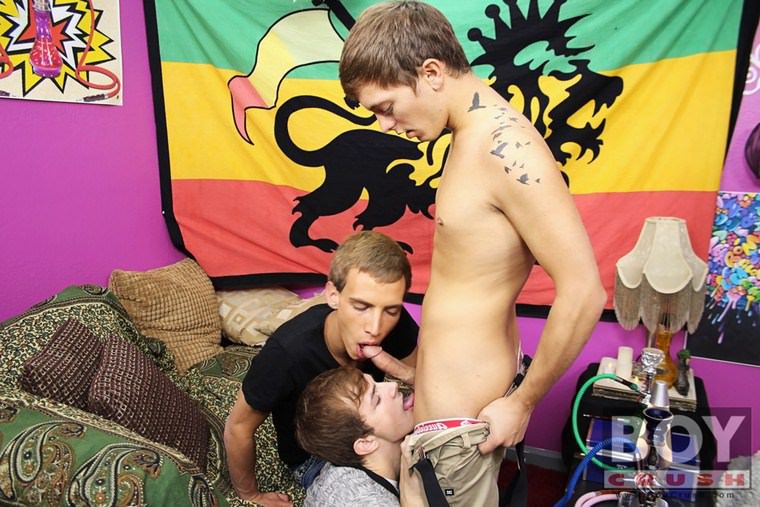 These guys get into some very horny threeway dick sucking and swap things around so everyone gets a dick in their mouth. Then my favourite part: I love watching guys train fucking, it's not the easiest thing to do because everyone's got to move their hips in sync, but it sure is a turn-on to watch. Ryker is at the front of the train and Jasper slides his cock into the stud's ass, Jordan is the caboose and he's fucking Jasper. And these boys know how to train fuck with Jasper doing all the moving back and forth.
But Jasper really is the pig in this scene, he's in a mood to get his ass fucked. So after their daisy chain session, Jasper gets down on all fours on the couch, then Ryker feeds his dick down Jasper's hungry throat while Jordan fucks the bottom's ass. Then they swap him around and give him some more. Finally, with both holes satisfied and these two top guys ready to unload their nuts, Jasper kneels and lets them plaster his beautiful face with their creamy cum loads.