I have always liked the stories over at Helix Studios. The guys are good little actors and deliver believable performances. You know those lame set-ups where a guy doesn't have any money to pay for the pizza? The series at Helix Studios are a million times better than that. The latest series called Scandal at Helix Academy is shaping up to be a good romp through the sexual escapades of a gang of horny school boys.
When we left the first episode, Evan Parker and Casey Tanner had just spied fellow student, Ryder Madison, on his knees in the classroom blowing their new teacher, Doug Acre. Professor and student are unaware that they've been caught, and Evan and Casey head back to Evan's room to plot their next move. "We won't have to do any homework all semester," Parker says.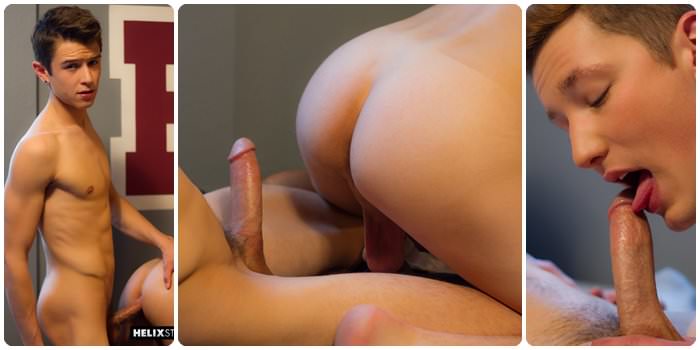 The boys' blackmailing plan is soon pushed aside; the boners stiffening in their pants need attention. Evan didn't jack off this morning like he usually does, so he's extra horny. He pulls down his pants and Casey blows him on the bed. But Evan wants more than a blowjob, he's always hot to get his hard-on in Casey's cute butt. The blond leans on the headboard and gives his ass to his lover doggy style, then he pushes Evan back on the bed and mounts him while Evan thrusts hard and deep up into his ass.
By the end of this scene Evan and Casey make their blackmail plans known to Ryker. But a wrinkle shows up in Evan's scheme when Ryker catches him doing something naughty. What has Evan done? How is Ryker going to blackmail him? And is Ryker going to tell Casey what he's seen? Can't wait to find out? The third episode is already up on Helix Studios so you can see what Ryker has discovered.