It's a beautiful sunny day, not too warm, and Evan Parker and Matthew Keading are out for a run in this new Helix Studio video called Run With Me. The guys are talking while stretching out their legs and Matthew talks about his trouble he having finding a new place to live. Evan offers an extra room he has at his place and they head off to look at it … ah, it's the old "I've got a room for rent" manoeuvre.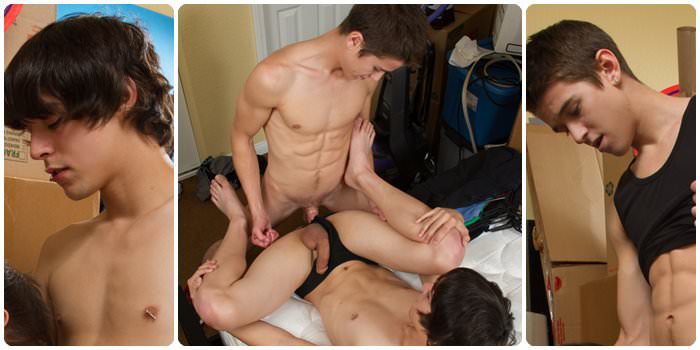 The room is great, the rent is cheap, and Matthew couldn't be happier. He gives Evan a hug, which leads to a kiss. "You know you don't owe me anything," Evan says. Matthew replies that it's cool and continues kissing his new room mate, then he kneels and pulls Evan's long dick out of his shorts and swallows it deep inside his mouth.
Evan kicks off his shorts and pushes Matthew back on the bed. The boys don't even take off their sneakers and Matthew doesn't get a chance to take off his jockstrap before Evan is drilling his hole – in fact, Matthew's shorts are dangling off his foot. They both climb up on the bed and Evan keeps drilling his buddy in a spooning position until they drain their nuts. Matthew's a very happy lad – a nice room, cheap rent, and a big-dicked room mate to fuck his ass on a regular basis.