English Lads says that newcomer George Craig is a footballer, but he looks more like a skater to me with his baggy t-shirt and backwards-turned baseball cap. Either way, he's a bundle of energy and doesn't have a problem stripping down for the cameras, even though he's never done anything like this before.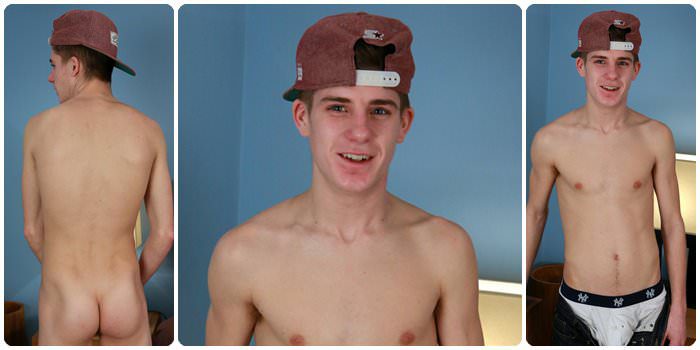 George is straight, like most of the guys who film for English Lads. He's just turned 19 years old and he's a short guy, standing 5'8″. He's very lean and naturally smooth and when he sheds his t-shirt, you'll notice a sexy trail of hair crawling towards his navel from beneath the waistband of his jeans. His underwear has a button fly and he teases us by showing a bit of cock through the fly hole.
This British boy doesn't have a huge cock, but it's not small either – a comfortably average 7.5 inches and he's uncut. And he's got one very cute and tight butt. Each one of those firm cheeks would fit perfectly inside a man's hand. George lies back on the bed and gets lost in his wank off session and shoots big gobs of spunk all over himself – and even splatters some jizz on the sheets beside him.