I don't know why porn producers making movies with guys speaking Czech if they're not going to give us subtitles. But Rick Nielson is such a good-looking, strapping hunk that I don't mind listening to him talking to Brad Fitt. My ears perk when I hear the word "homosexual," and I'm guessing he's explaining to Brad that's he's never played with a guy, but has always wondered what it was like. So Brad leans under Rick's cowboy hat and plants a kiss on him.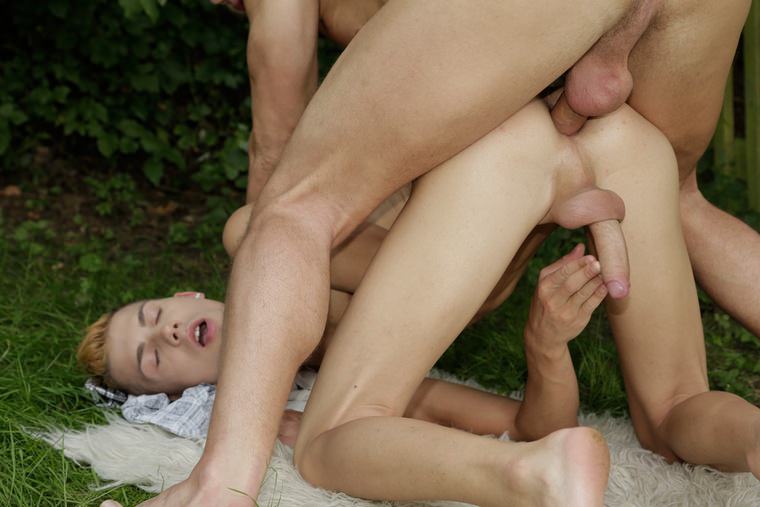 They head outside and lie on a blanket on the grass and start kissing. Brad finds his way down to Rick's crotch and nuzzles his face against the stud's bulge. Brad hauls out Rick's meaty uncut dick and swallows it and the straight stud plays with this nipples and watches. Brad's tight jeans are hampering his ability to suck this beautiful dick and he struggles to remove his shoes and jeans. He could just stand up and strip everything off, but he's really hungry for Rick's bone and doesn't want to stop sucking it.
This muscle hunk puts Brad down on all fours and prepares his ass with his tongue. Rick squats behind him and we watch as he pushes his bulging cock head into Brad's ass. It's a hot sight seeing this hulking muscle stud squat fucking Brad. Then Rick braces himself with his hands on the ground and does push-ups on drill Brad's hole. When they move into some spoon fucking, Rick really ramps up his pumping speed.
But my favourite part is when Rick lies back and Brad rides his thick cock. From behind Rick's head, the camera gives us a great view of Brad bouncing on Rick's hard-on, all the while the top is moaning and pinching his nipples. Brad blows his load of jizz all over Rick's ripped abs, then he jumps off and gives the stud's swollen cock a few bobs in his mouth and Rick's cream starts surging all over Brad's lips and falling on Rick's cum-soaked belly. This is one hot fuck scene.