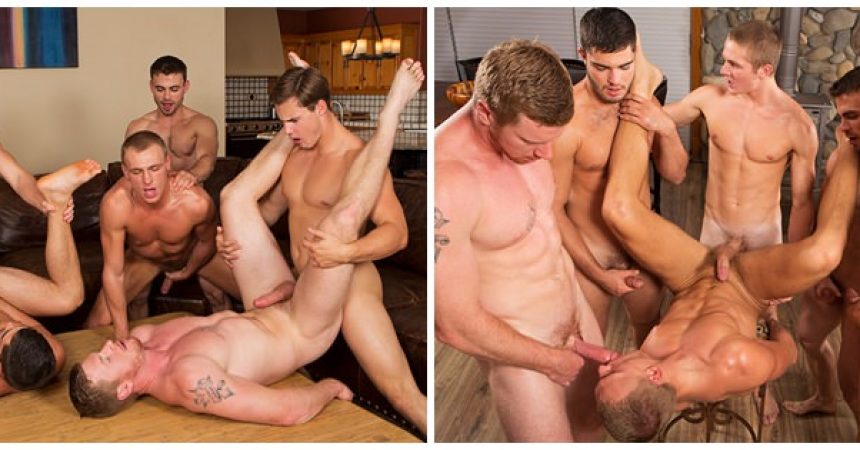 DICK DETECTIVE'S FAVORITES
CLICK HERE TO VISIT THE BRAND NEW ENTICING MALES FORUM - THE BEST PLACE FOR CELEB TWINKS, INFLUENCER TWINKS AND PORN TWINKS! SIGNUP FOR A FREE ACCOUNT TODAY!
Mountain Getaway Bareback Orgy
Hey guys! I'm on holiday at the moment (soaking up the sun and all the hot shirtless guys in speedos), so I won't be able to keep you updated with all the newest and hottest porn scenes being released right now. Instead, I'll post some of my all time favorite scenes (there are some absolute scorchers!) from my favorite sites as well as the usual Daily Photos. Enjoy!
This is one of my favorite orgy/gangbang scenes ever! Six stunning muscle jocks (David, Tanner, Bryce, Andy, Coleman & Noel) get together in a cabin in the mountains, and their hot antics were filmed over a few days and split into four scenes. This one is the final scene, and definitely the best. It's a six stud orgy, with lots of great cock sucking and some amazing bareback fucking in all kinds of combinations. Lots of cocks swapping over to different asses and everyone getting fucked. But the best part for me is the gangbang near the end, with cutie Noel as the hungry bottom boy taking every raw dick – and every load of cum – deep inside his dripping hole! The cum was literally leaking out from his stretched ass. Damn hot stuff!