I love these classroom and detention scenes from Teach Twinks. I had a couple of teachers in high school that I would have loved to have gotten naked, so these classroom sessions always get those old fantasies revving good. Hairy bald teacher David Chase is giving his student Ryker Madison a private algebra tutorial after school. Ryker doesn't get the whole X = Y thing (who does?) and he's having a hard time at the black board.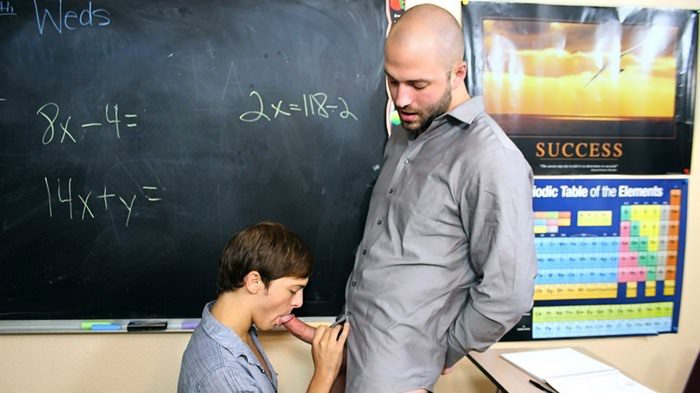 Ryker's working on the problem and doesn't see his teacher squat behind him, but he soon feels those big hands on his hips. The teacher slides Ryker's pants down and buries his bearded face in the boys ass. Thankfully Ryker's wearing an assless pair of underwear that gives his teacher quick and easy access to his horny boy hole. "Oh we're going to have fun figuring this out," the teacher pants as he comes up for air. (I love how the teacher tries to work math into the sex. I was waiting for him to say, "Let's see how many times X goes into Y," but he didn't.)
This big, burly teacher fucks Ryker at the blackboard. But my favourite part of this fuck session has David and Ryker between the teacher's and a student's desk. David leans his hands back on the desk while Ryker braces his on the bigger teacher's desk, and Ryker thrusts his ass gently back and forth on his teacher's big dick. Teacher Chase lets the boy do all the work and enjoys the view of his dick disappearing in his student's sweet little butt. And David Chase has fucked three or four other students in his classroom over at Teach Twinks, so if you like this one, you'll love the others. Chase is a very bad teacher, but you know, in a good way.