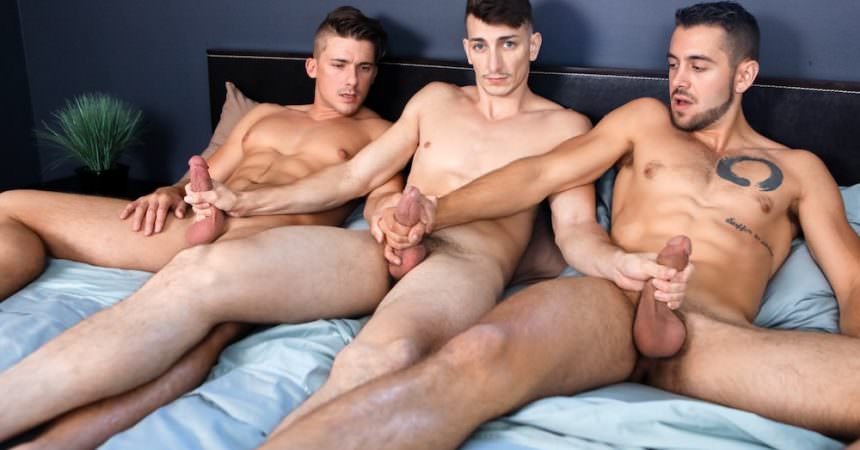 Dante, Michael, & Jake Bareback
Dante and Jake pretend to own a house as a ruse to set up a meeting with sexy potential roommate  Michael. When Michael arrives, Dante and Jake break into the house and give Michael the tour. They head into the bedroom where they inform Michael that ALL amenities are included as they point out their hard cocks. Michael drops to his knees and gets to work sucking those dicks, desperate to please his potential landlords. Soon all three of them are naked and Dante sucks Michael's dick as Jake feeds Michael his boner. Dante shoves his dick into Michael's mouth as Jake slides his raw cock into Michael's ass and drills it deep.
Dante and Jake then swap over, allowing Dante to drill Michael's ass with his bare dick as Jake fills Michael's mouth. The two buddies keep taking turns, pounding Michael's hole over and over in several positions. We then see Dante shove his dick into Jake too, and go back and forth between Jake's ass and Michael's ass. Jake cums as Dante drills him, and then Michael cums as Dante drills him. Dante pulls out ands blasts his load over Michael's hole before they admit they don't actually own the house and run off!
Dick Detective's verdict: Great! A fun story and a sizzling threeway. I love how Dante and Jake share Michael's hole for most off the scene.